In case you've missed it thus far, Awesome Bend is a local organization with a mission to "inspire and support ideas that make Bend an even better place to live, work and play."
Part of the
Awesome Foundation
, Awesome Bend awards a $1000 grant to a local organization or individual fulfilling that mission. This time around, the winner is Judie Geiss, who's behind the "You Matter" signs you may have seen posted in yards around Central Oregon.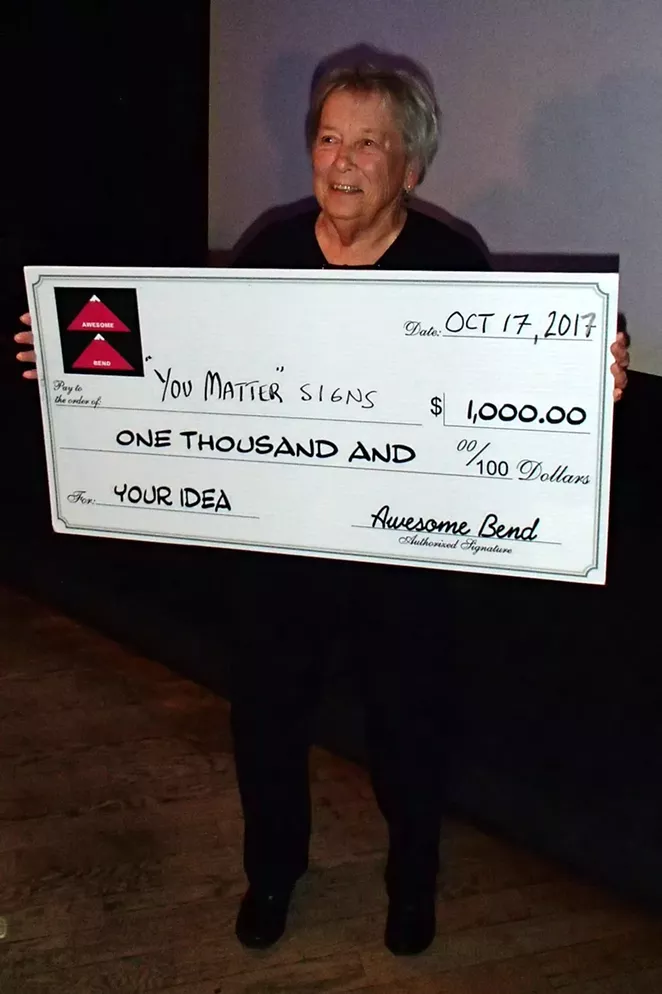 Awesome Bend
Judie Geiss' "You Matter" sign project can be found around Bend, but it's also a movement that Geiss says is happening nationwide.
"My project is to bring more uplifting signs to Bend, signs that encourage people who are suffering from depression and those who want to give up on life to keep going because they matter," Geiss stated in a release from Awesome Bend Oct. 18. "The words 'don't give up' 'you matter', 'mistakes don't define you', 'you are worthy of love' reach out to hurting people. This project has spread across the U.S. and Europe and I believe Bend would be even more awesome if more people were helped because the signs were in more places, reminding us all that we matter. As you read them, they bring a smile to your heart or your face."

Geiss won't be using the money to simply post more signs around town. In addition, Geiss will use the funds to employ people who live at the Shepard's House, a rescue mission in Bend, to put the signs up around town.

Like past Awesome Bend pitch nights, contenders give a brief pitch of their project before a live audience, and then a panel chooses a winner. There's also an audience choice award, which this time, went to the Inspirational Vessel Project, which distributes jars containing information about services available to the houseless through the Backdoor Cafe Day Center in Bend.

Awesome Bend is currently accepting applications for proposals for the next pitch night, with a deadline of Jan. 15, 2018. The event will take place Feb. 6 from 6 pm to 8:30 pm at the Summit Saloon in downtown Bend. Visit awesomebend.org or email awesomebend@gmail.com to apply.