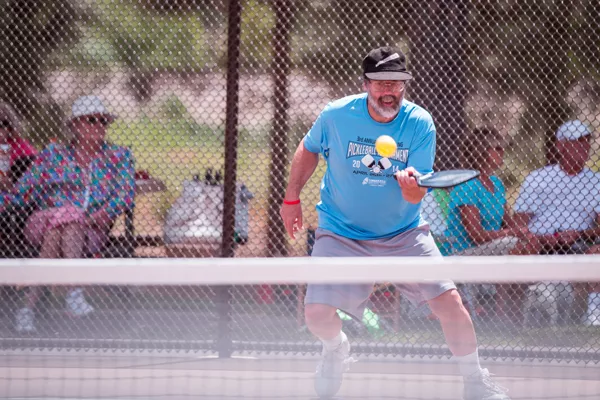 c/o Visit Bend
Whether it's archery, pickleball or a plethora of other activities, Oregon Senior Games have something foreveryone who is old enough.
It's no secret that Central Oregon is home to accomplished athletes of many persuasions—and that trend doesn't stop with an increase in the number of birthdays celebrated.
For the past four years, older athletes have descended on Bend for the Oregon Senior Games, a series of events that allow competitors 50 and over the chance to show off their continuing athletic prowess. (If you're 40 or over, you can also compete in the exhibition rounds.) Past competitors run the gamut in terms of age and interest. They've included Grants Pass resident Florence Latter, then age 92, who competed in the 50- and 100-meter dashes, and Evelyn Cooke, a Bend resident, cancer survivor and an avid pickleball player.
A Big Showing for Pickleball
When it comes to the most popular sports at the Oregon Senior Games, the buck stops at pickleball. Of the approximately 500 participants already signed up for events, Oregon Senior Games Event Director Michael Coe says pickleball is by far the most popular, with more than 300 participants.
Pickleball is a popular sport in Bend in general, thanks in large part to those who picked up the sport in warmer climates and brought it here when they settled in Bend for retirement.
"It started out with the senior crowd down in Arizona and eventually down in Florida," says Christie Gestvang, Ambassador for the USA Pickleball Association, who lives in Central Oregon. "The senior population transitioning from tennis injuries, maybe shoulder injuries, found that it was less pounding on their body, but they loved the action. It's so much faster than tennis," she says.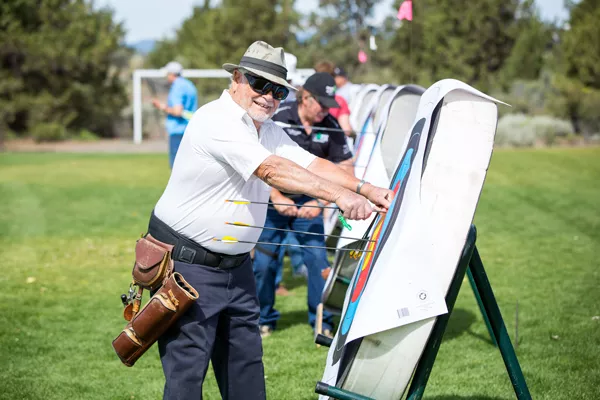 For those not familiar to the sport, know that it's not much like tennis at all.
"It's a combination of tennis, ping pong and badminton, played on a regulation—almost regulation—badminton court, but the rules are different than tennis," says Kirk Foster, vice president and director of communications for the Bend Pickleball Club. "It's a ball you hit over a net, but that's about it," Foster says of comparing tennis and pickleball.
Foster and Gestvang, members of the club that boasts more than 1,000 members in Central Oregon, say the Northwest is now a hotbed for the sport.
"We have some of the nationally ranked champions in Oregon, and they come to the (Senior) Games—if they're old enough," Foster says. In addition to its large presence in the Senior Games, the club will host the USA Pickleball Association's regional tournament—with some cash prize purses—in Bend this August.
New to the Oregon Senior Games: Disc Golf
Other events in the competition include archery, bowling, golf, swimming, tennis, a run/walk, and track & field. Oh, and don't forget a Central Oregon favorite in the exhibition round: Cowboy Action Shooting.
Also new on the scene this year: Disc golf, added at least in part due to the fact that Bend now has a competition-worthy disc golf course. The 18-hole course at Bend's Pine Nursery Park came online last spring, according to Ryan Lane, a member of the Central Oregon Disc Golf Club and organizer of the Senior Games event.
Lane encourages those new to the game, as well as the more seasoned players, to come out for the Games, saying the laid-back, easy nature of the sport makes it ideal for people of all ages.
"It's a great opportunity to play with people who are your own age, whether they be your own ability or not, " Lane says. "Everyone is friendly in the sport; it's not going to be cutthroat competitive by any means. People leave their mark and play their best against the course, not against each other."
So what's the common thread among all the events at the Oregon Senior Games? Helping people maintain an active lifestyle, says Event Director Coe.
"You'll get some people in that are very good at their sport and other people coming in that just want to be introduced to the sport," he says.
This year, the "fun" part is especially highlighted, since this is not a qualifying year for the National Senior Games. The 2017 National Senior Games in Birmingham, Ala., started last week. Next year, participants in the Oregon Senior Games will get a shot at qualifying for the national competition in 2019. This year, it's all about enjoyment.
Oregon Senior Games
June 12-18
Various locations in Bend
Register at: oregonseniorgames.com