Back when Pac-Man graced every pizza parlor, and Zelda was just starting her rise as legend, some of these local businesses were just getting their start. But unlike the dot-matrix printer and the giant-pixel computer, these legends of Bend business are still in the game. In honor of Shop Small Saturday, meet some of the O.G. members of Bend's business game.

+ PEGASUS BOOKS
+ SUNNYSIDE SPORTS
+ NEWPORT AVE MARKET
+ PIZZA MONDO


PEGASUS BOOKS
As interviewed by Judy Stiegler
Judy Stiegler
Duncan McGeary stands in his shop Pegasus Books in downtown Bend, Oregon.
Pegasus Books, a stalwart of downtown Bend, sells new and used books, board and card games, comic books and graphic novels and various types of toys.

On getting started as a business in Bend:
Duncan McGeary grew up in Bend before going to the University of Oregon, returning home after graduating in 1980. He wanted to be a writer, but says that wasn't going to pay the bills, so he went to work as a landscaper. One day, he popped into a comic book store hidden away on Greenwood Avenue.—Pegasus Books. He befriended the original owner and began working for him. Around 1982 the store moved to its current location on Minnesota Avenue in downtown Bend. Hard times hit Bend, and the store was struggling. The owner moved to Portland, and in 1984, approached Duncan about buying it. Though the store was run-down, Duncan took the plunge and has owned it ever since.
On staying successful:
Duncan believes he may well be the longest-standing retail business, in the same location, with the same owner in downtown Bend. In Bend a business such as his must have the ability to diversify and adapt to change. At one point, sports cards were a driver of his business, but that market died—so he responded with a wider variety of offerings. As he says, owning the shop is the "best minimum wage job a middle aged guy ever had."
On the importance of shopping local:
Duncan says the obvious reason for shopping local is that the money spent stays here at home—in Bend. Additionally, local businesses strive to provide unique options and experiences for the shopper, so shopping local is a win-win.

pegasusbooksofbend.blogspot.com


As interviewed by Magdalena Bokowa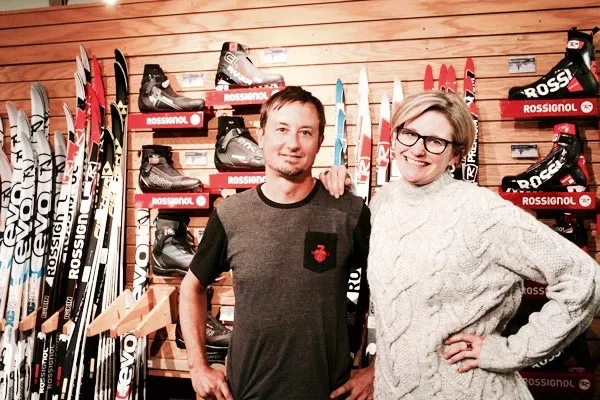 Wyatt Gaines
Owners, Mike Schindler and Susan Conner at their shop, Sunnyside Sports
Bend's OG bike shop has been around since 1972. "It was here before mountain biking was a thing," jokes owner, Susan Conner, who started as a college student 30 years ago. You'll typically find Conner, as well as co-founder and bike mechanic Mike Schindler, at the shop tightening spokes, suggesting new trails or just joking around.
On Getting Started as a Business in Central Oregon
Schindler says: "This has always been a service-oriented bike shop that stays true to bike culture. It lives on word of mouth so we always try to be friendly and knowledgeable, and in the end, we get many repeat customers who tell their friends."
Conner says: "I was so honored to have been hired here because I have always felt like it's a special place that prides itself on representing good companies making great gear. It's had a solid reputation since day one."
On Staying Successful
Schindler says: "We know that this can be an intimidating place to walk into, especially if you are new to bike or ski culture. So we listen, are friendly, open-minded and try and make people feel comfortable."
Conner says: "On average, most employees have been with us for 15 years. I think that's due to us treating them like family and us having their back and vice versa. We know we are fortunate to operate and live in this town—it's cup runneth over type stuff— so we constantly are looking at what we're good at and what we can change. Adaptation is crucial."
On Shopping Local
Schindler says: "In an era when big retailers are dying, all we have is our personal interaction with customers. So if you come in, you're joining a part of our community and can ask us, 'How was the trail today or the powder?' And someone in the shop will have an answer because they've ridden or skied that day. Our staff is always using our gear and knows it inside and out, something you don't get from an online retailer."
Conner says: "If we don't live it, we can't sell it. So we stay true to what we believe in."
As interviewed by Lisa Sipe

In 1996 Steve Koch and John Picarazzi left their lawyer jobs to open Pizza Mondo. They've been feeding the community hand-tossed pizzas from their gas-fired hearth ovens ever since. Two years after opening they brought on Manager Cliff Triplett as a third partner. The town only had 30,000 residents then, and Pizza Mondo had five employees. Now they have 35 employees but still operate out of the same Wall Street. location.
On getting started as a business in Central Oregon
"Bend prioritizes local business," says Triplett. "We have this community feeling like they want to support those businesses, sometimes over convenience. We are lucky to have a community that will go out of its way when sometimes we're out of the way or it's difficult to find parking."
On staying successful
"We find new challenges all the time. With more people coming to Bend there are more customers but also more competition. We work hard to keep up our relevance and quality.
"We've found it challenging to keep up with technology and social media. People still have to call to place their orders. We're hoping to introduce online ordering next year."
On shopping local
"It's important to support downtown business to keep it thriving. We even go out of our way to support the other businesses downtown. It might be $10 cheaper to buy my running shoes online but I still buy them at FootZone."
As interviewed by Jared Rasic
Lauren G.R. Johnson is a fifth-generation Oregonian, born and raised in Bend. As a teenager she worked at Newport Avenue Market and, as a second-generation owner, has ushered Newport Market into its current phase as the first employee-owned grocery store in Central Oregon.
On getting started as a business in Bend
"The evolution of our store from a traditional grocery store that everyone identified as an IGA to becoming the specialty store that we are today...That evolution didn't happen overnight; it's taken over 25 years and it continues today, nearly on a daily basis."
On staying successful
"We have always been locally owned and specifically think of ourselves as a neighborhood grocer that sells what people want to buy.
"We have regular groceries (milk, bread, bananas, etc.) as well as specialty housewares, gifts, Oregon Country Beef (we don't sell commodity beef and haven't for more than 25 years), over 500 beers and now have the privilege of selling distilled spirits.
"Remain relevant. You always have to stay fresh and give people a reason to visit your location with outstanding customer service and things people want to buy."
On the importance of shopping local
"You'd be amazed at what people think is local. To those retailers' credit, they've done great advertising so you can't fault them. It really falls to the education of the consumer to understand where their dollars go.
"Our employees (more than 120) are able to live a good life in Central Oregon with medical insurance, great industry wages, vacation time, retirement plans and more because people choose to shop with us and support our employees, as well as the local products we carry by Central Oregon companies, and therefore their employees too.
"We are all neighbors and this is our little place on Earth to make the best we can. It's a group effort and supporting a vibrant community means being thoughtful of each other."