Gov. Kate Brown on Tuesday ordered state agencies to improve their efforts to conserve water. The executive order establishes a goal of reducing water consumption by 15 percent or more at all state-owned facilities by December 31, 2020. Agencies will be required to give a progress report on November 1, 2015, and annually for the next five years.
"Water is the foundation for our economies, communities, ecosystems, and quality of life," Gov. Brown said in a release. "State government's efforts to address climate change must include reduced consumption and other conservation measures as water shortages become the new normal."
Snowpack in Oregon peaked at its lowest levels in the last 35 years, according to the National Resources Conservation Service, leading to lower than normal streamflows. The Oregon Water Resources Department says statewide precipitation is 88 percent of average. Of Oregon's 36 counties, 23 have been declared officially in drought by the Governor. This is the seventh time Deschutes County has received a drought declaration in the last 14 years. The most recent declaration was in 2010.
Looking to reduce your personal water consumption? The City of Bend is offering free sprinkler inspections to help residents improve the efficiency with which they water their lawns. According to the City, an estimated 60 percent of residential water use goes into landscaping, making sprinklers a key opportunity for conservation.
"The drought conditions we're experiencing in addition to the new utility rate structure that went into effect this month should motivate us all to take another look at how we can reduce our water consumption and get on a more sustainable path," Mike Buettner, Water Conservation Program Manager for the City of Bend, said in a release.
To sign up, visit waterwisetips.org or call 541-388-5569.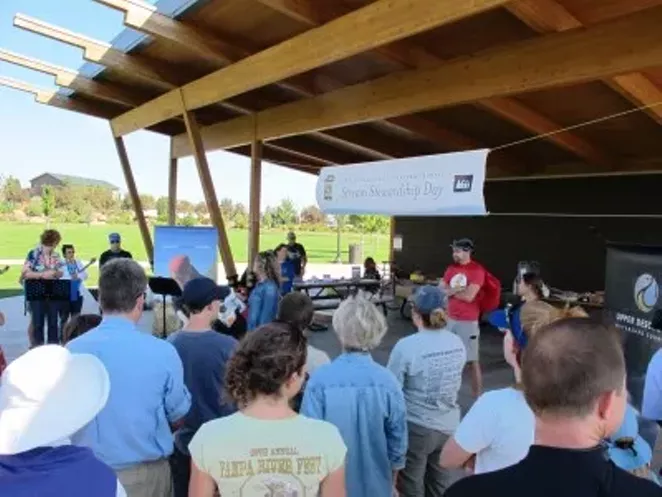 Upper Deschutes Watershed Council
No one likes a dirty river. Fortunately, there are plenty of opportunities to do something about it. On August 8, from 10 am to 1 pm, the Upper Deschutes Watershed Council hosts the annual Stream Stewardship Day. Volunteers will team up to remove invasive weeds, in stream debris, and litter along the banks of the Deschutes. In exchange for their labor, participants will have a chance to learn about water quality, fish habitat, and vegetation in the Upper Deschutes Watershed. For more information, visit upperdeschuteswatershedcouncil.org.