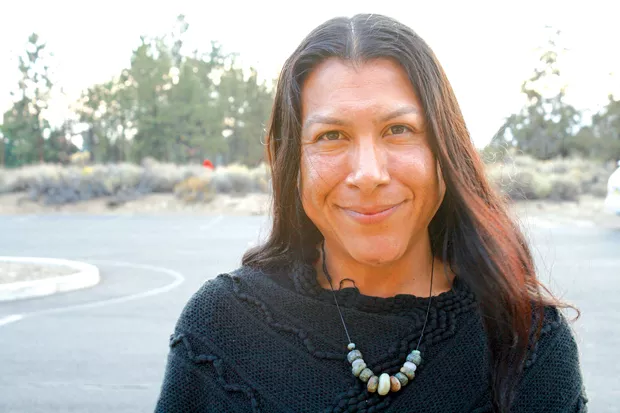 Nicole Vulcan
The teachings of don Jose Ruiz and his father, don Miguel Ruiz, are focused largely on self love and acceptance. The Unity Community of Central Oregon hosted a sold-out talk with don Jose Ruiz Sept. 15.
Don Jose Ruiz comes from a long line of healers and spiritual guides, not the least of whom is his father, don Miguel Ruiz, author of "The Four Agreements"—a book containing simple teachings that's been translated into more than 40 languages since it was first published in 1997. The Toltec tradition goes back at least six generations in don Jose's family—so it should come as no surprise that he's followed in those footsteps. At the same time, he's forging his own spiritual path and teachings as the author of "The Wisdom of the Shamans" and co-author of "The Fifth Agreement," along with his father.
The Source sat down with don Jose at his sold-out talk in Bend last week.
Source Weekly: Let's start by sharing some of your background with our readers.
Don Jose Ruiz: The beautiful thing about this tradition is that we believe that we are living—it's a dream, and life is a dream and so the thing we call life, we call it a dream. So we know that we are dreaming. And many people in the tradition were sleeping.
So the Toltec path was to wake everybody up so that they can value and be grateful to be alive.
My father did a lot of cleanup about the superstition of the past of the old Toltecs—because that's why it didn't get accepted—so when he began doing psychology, because he's a medical doctor, he mixed the traditions with common sense. And there he said, 'Oh, at this point it's easier to wake up.' So he used these Four Agreements—be impeccable with your word, don't take anything personally, don't make assumptions and always do your best.
...Now, here's the funny part, because in the Toltec there's nothing to learn. Only to unlearn, because Toltec means artist of the spirit. So we're here to share what gives inspiration, but basically we are unlearning what takes our inspiration away.
SW: It's interesting that you said that thing about making guidelines or rules. Was there anyone in the Toltec community who said, hey, you're doing something that hasn't been done before?
DJR: Oh, yes, absolutely, because that's how the dreamers remain asleep. That's how corruption remains in religions. That's how all of this negativity goes forward, because no one wants to fix themselves.
SW: I'd love to hear something about the Fifth Agreement.
DJR: The Fifth Agreement is to be skeptical but to learn to listen. Not to be skeptical in a social position that one thinks that is more intelligent than anyone else—no, it's not about that. It's actually a personal one. It's to be skeptical of our own negativity. Let's say that if I'm having a bad day, I say, oh, I'm not meant for love, I'm not meant for love—I tell myself that and I believe it. There I go—I make an agreement that I'm not really meant for love. But if I say I'm not meant for love, I'm thinking that, I said, you know what, Jose? It's not true. And I'm being skeptical of my own negativity and this is like my grandmother said, we break the curse of the scorpion that stings itself with its own stinger.
SW: And now you have another book out. Tell me about that.
DJR: Yes, it just came out in April. It's called The Wisdom of the Shamans.
...This is about stories, because, it's about stories about my ancestors, but it wasn't like told to me—it was in a form of meditation and vision quest.
... Because the shaman never likes to talk directly to somebody. Because they were not ready, because they will be clouded, because they won't be open and they won't like to hear. But if the shaman speaks storytelling, the person with reasoning says, it's not directly to me, he can relate to a character and this is what happens. And this is exactly what happened with The Four Agreements—my father shared it, like he was talking to me, but no, it was integrity talking to integrity... so these are stories with integrity.