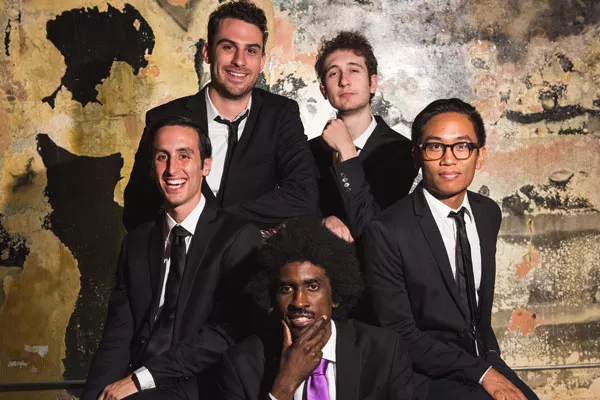 Submitted.
The Lique, fronted by emcee Rasar Amani, center, brings their hip-hop-meets-jazz sound to McMenamins Old St. Francis on 1/17.
If you haven't heard of The Lique (pronounced The Leak), let me be the first to introduce you to your new favorite band. Based in Las Vegas, The Lique combines the talents of former University of Las Vegas jazz musicians and emcee Rasar Amani. From politically charged songs to anthems about Batman, there's a lot to like about this band that blends hip-hop and jazz.
Amani released a number of solo albums while living in Sacramento, Calif., before moving to Las Vegas to work as the emcee at a show on the Strip. There, Amani met Sean Carbone, crediting him with the idea to form The Lique.
"He had this idea for a band inspired by A Tribe Called Quest," Amani says. "We're not actively trying to be A Tribe Called Quest, but he had the idea and I knew he was on the right track. We all pull from new and old, but it's got to be real. We're not just a hip-hop and jazz band, we go into punk and reggae, too, that's just our base."

Amani says each band member has a great relationship with jazz. The first song Amani ever wrote was a jazz song. The other guys in the band—Carbone, Jason Corpuz, Jeremy Klewicki and Nick Schmitt—met while attending UNLV, studying jazz music.
"I've been rapping since I was in junior high, and all the guys love hip-hop," Amani says. "Hip-hop has a strong relationship with jazz. Jazz has always been heavily sampled and many of the famous rappers are related to the old jazz cats. We're bringing it back to the roots."
While Amani is often the voice, he's learned to make sacrifices and adapt to a different creation process as part of a band.
"In the past, in general it was my show. I'm the leader, but the difference is it's more democratic in the creation process," Amani says. "If anyone hates anything, we don't do it. It's just been a different thing, it's been an interesting thing, I'll tell you that much. Also, growing up as an only child, I've grown into it and have these brothers now. It's broadened my experience."
The Lique has already seen success, having been named the "Best Band in Las Vegas," and gracing the cover of Las Vegas Weekly. All that means dream-achieving recognition for the five-piece band, and a huge tour. While Amani has performed in Bend before, the appearance this week at McMenamins is the band's first appearance together, here and in the Pacific Northwest.
The band's new album, called "Times Like These," takes inspiration from social upheaval. Living in Vegas, Amani says the first thing anyone asks about is the shooting that happened in October.
"People come out to party, we have one hell of a time when we party, but there's a message when you listen," Amani confides. "We're more deeply embracing the conscious awareness of love, peace and joy while the world is crumbling around you."