Jim Anderson, 88, admits he's had a lifelong love affair with perhaps the most beautiful creation in the universe: Mother Nature. While the longtime Source Weekly Natural World columnist doesn't have a formal education as a naturalist, he has something even better: a lifetime of experience.
In his 1991 book entitled, "Tales from a Northwest Naturalist," Anderson writes, "The Earth is our home away from home; we should strive to leave it in better shape than it was when we arrived."
As we sat in his home, Jim showed us his century-old Graflex camera. He can't buy film for it anymore, but shows it off with pride, having used it to take thousands of pictures of critters. The camera was a favorite of early 20th century journalists.
Anderson's love of nature began early in life. He grew up on a family farm near West Haven, Connecticut, where nature molded his life. He told of a favorite nearby sanctuary, Hubbard's Woods, which he would explore for hours as a child. There he found the skeletons of a great horned owl and a weasel locked together. They had killed each other in a life and death struggle. "That really hit me," he told us. That find made a strong impression on a young Anderson, instilling a passion for owls that has lasted throughout his life. His admirers call him "Mr. Owl."
He points to a favorite picture of a horned owl hanging on a wall that he took with his Graflex, at the same time recalling his time working in the woods near Bend with his close friend Bill Miller. When Anderson spotted a great horned owl, he told Miller it needed protection, and Miller agreed.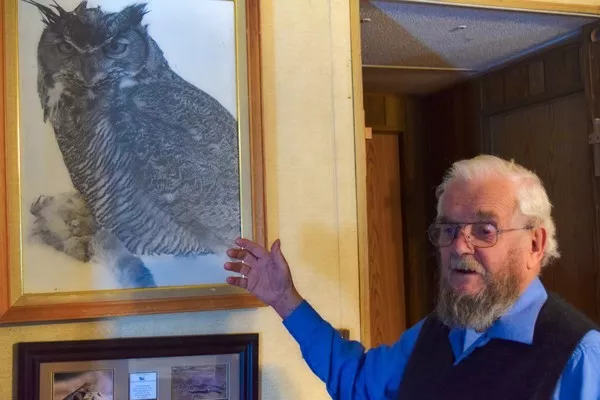 Jim Anderson
Jim Anderson shows a favorite photograph that he took.
Years later, the land on which they worked was used to build a school named after Miller. Today, the William E. Miller Elementary School sits near Skyliner Road on the west side of Bend. Several years ago Anderson was called to the school because an owl was spotted on the property. When he investigated, he knew immediately it was descended from the owl he helped protect years earlier. Today he shakes his head in wonder telling us the story.
Back in Connecticut, the Anderson farm library contained books about the natural world, and it was books about birds that presented a landmark moment in his young life. They contained details of birds found along the Pacific Flyway of Oregon, inspiring a lifelong passion. Silver Lake, where many of them are found, was his first major stop in Oregon where he saw a bird that was once thought to be extinct: the egret.
When Jim told his family he was moving to Oregon, his grandfather thought he was nuts. "Why would you want to live out there with all those wild people and Indians?" he asked. Still, Jim jumped on his motorcycle and came to Bend in 1951.
Anderson stayed in the old Bend Hotel. With 35 cents in his pocket, he went to Polly's Cafe at Bond and Franklin in search of breakfast. There he met a man who told him that the Forest Service was hiring firefighters for work west of Bend. Anderson was hired immediately. "I was so lucky. An old friend of mine said the harder you work, the luckier you get, and I think it's true."
For Anderson, working was like taking a continuous outdoor vacation. Along his journey, he wrote for the Bend Bulletin and then the Oregonian. Developing his photographic skills, he made a living selling photos and dreamed of getting a call from The National Geographic Society asking to use his work. He got that call while working as manager of the Ramsey Canyon Preserve in Arizona. The Society later published Anderson's picture of a hog-nosed skunk.
Anderson also served as a naturalist for the Oregon Museum of Science and Industry (OMSI) in Portland, leading thousands of youngsters on field trips. At a Portland lecture decades later, many of those same "kids" showed up, gray-haired and retiring from natural resources jobs themselves.
Anderson also helped found the Children's Zoo in Portland. He then worked for Sunriver Resort, helping launch its natural resources efforts. And he kept writing; Anderson says he has written his Source Weekly column since the paper was founded nearly 20 years ago.
Anderson also has a love of flying where he can soar like a bird. He was a pilot and later a glider pilot and worked as vice president of Precise Flight in Bend.
With tears of appreciation Anderson says, "I've been so lucky. My life has been blessed with people." The thousands of people he has touched and inspired to help conserve the natural order express their gratitude. One example is a simple hand-written note in his book from a student who wrote, "Thank you, Mr. Anderson."
Thank you, Jim Anderson.