O
n a chilly afternoon in Riverbend Park, with a cold wind blowing off the Deschutes River, Summit Kuehn is so bundled up that her pink-dyed hair is barely visible. She's taking a short break from coaching the Timberwolves Rugby Football Club to chat up a visitor about her passion for the sport. She gushes so enthusiastically about rugby that it takes the edge off the frigid gusts of wind—which seem to have no effect on the players running through drills. Her eyes sparkle and her smile radiates as she talks.
"Rugby kind of saved my life," Kuehn says. "I wasn't in a good place. I had depression issues, and I wasn't exercising or eating right. It's helped me become more self-confident." She says she does her best to pass that on to her players.
Timberwolves RFC Facebook
Kuehn, 22, was born in Portland but grew up in Minnesota, where she lived until returning to Rip City a couple years ago to attend art school. That didn't go so well, she says, so her boyfriend talked her into moving to Bend.
Kuehn says she was introduced to the basics of rugby in a Total Fit class at Central Oregon Community College. She then hooked up with the Bend Lady Roughriders Rugby Club. "I went to one practice and just kept going," she says. "I made a bunch of friends, and now they're like family. It's nice to be a part of such a communal sport. One hundred percent, it's community-based." There's a camaraderie that envelopes the sport —like when home teams host their visiting competitors to dinner or drinks after a match.
Kuehn is so involved in her newfound passion that she was elected president of the club in August. The Timberwolves Rugby Club had its humble beginning this past spring, with four to six girls, mostly from Bend High School. Kuehn says she started the club with help from Kirdy Molan, Adam Pendergraft, Austin Alley and Travis Skyles. It's the only high school girls rugby club in the area and is open to all high school girls in Central Oregon, Kuehn says. The club currently plays "7s," with 18 girls on the roster, representing Bend Senior High School, Mountain View High School, Summit High School and Redmond's Ridgeview High School. Kuehn says the goal is to get 25 to 30 girls in the club so it can play "15s" in the coming spring season. The fall season wraps up this month with matches in Portland, and next spring, the club will have some home matches. Between now and then, Kuehn says she and her players and teammates will be working on weights and conditioning, becoming stronger and more fit, which will help lessen injuries.
"A
s the Timberwolves Rugby Football Club, we are very accepting and strive to develop a safe, fun and competitive environment," Kuehn wrote in an email. "Rugby is a great way for girls to change the way they see their bodies and to push them to do more than they ever thought they could. Many girls, myself included, have developed a new love and appreciation for their bodies and have grown to be more confident in themselves."
Watching her players practice, she adds, "One thing about rugby is you gotta have some thick thighs. Also, you have to be a little weird to play rugby and be willing to work hard, which I love. I love pushing myself to new limits."
She says this attitude can rub off on her players. "They say, 'If coach can do that, then so can I.'"
So does she consider herself a rugby expert by now? Not so much. "There's so much chaos in the sport. I don't think you can ever be expert. I've studied the sport a lot."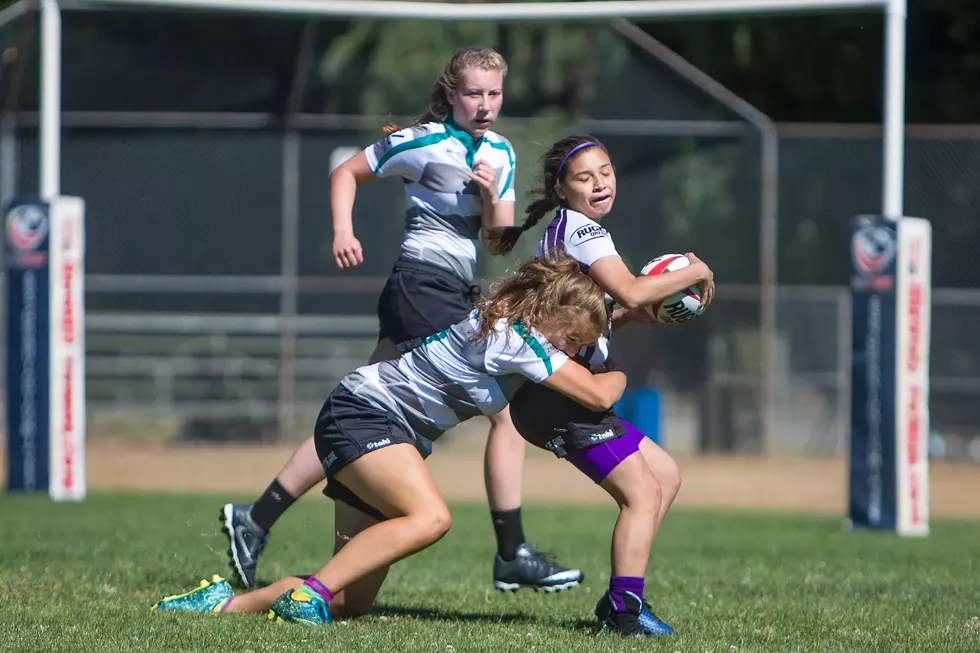 Timberwolves RFC Facebook
R
ugby, if anything, is non-judgmental, Kuehn says. "Nobody cares if you're rich or poor. We just want to play rugby." All it takes, she adds, is "cleats and a mouthguard—that's about $45. It's all-inclusive. We just want to have a good time to play and enjoy each other."
When she isn't coaching, playing or talking rugby, Kuehn is working on her undergraduate degree at COCC. She also works as a server in a local restaurant. Once she earns her degree, she plans on working toward her license to become a tattoo artist.
Finally, it's not lost on her that her first name, Summit, figures prominently in Central Oregon. Asked for the story behind that name, she admits that she was conceived on a mountaintop. "My parents were avid hikers."
And asked which she loves more, coaching or playing rugby, she responds, "I love both equally but for different reasons."
To see the Timberwolves and Lady Roughriders rugby clubs in action, check out their promotional videos on YouTube.
Bend Lady Roughriders Rugby Club