Over Mother's Day weekend, from May 9 to 12, a little piece of history will be flying over the skies of Bend and Central Oregon: A Ford Tri-Motor Airplane. The Tri-Motor was built back in 1928 as one of the original faces of commercial airliners.
EAA Media
Flight attendants originally passed out cotton balls for passengers' ears because of the noise. The planes even had an indoor toilet.
"It was the first airplane built to hold people and not mail," Dale Anderson, president of Bend's Experimental Aircraft Association, the High Desert Flyers, stated in a release. "The original airlines, the first airlines, almost all of them started with this airplane."
Many people are aware of what Henry Ford did for the automobile industry, but his work in the 1920s with these planes was another innovative feat. The planes were 50 feet long and 74 feet wide—which prompted people to call them the "Tin Goose." Ford only built 199 Tri-Motors in total. Eight of them remain air-worthy in 2019. Two fly fulltime as tour planes.

The model coming to the Bend Municipal Airport is the Tri-Motor 5-AT-B, which is serial No. 8. Pilot Colin Soucy tells me they call this one "Big Ford," since it's bigger than the other Ford model that flies regularly and holds 10 people. The first flight for this particular model was on Dec. 1, 1928. Eventually it was sold to the Transcontinental Air Transport in January of 1929, which sparked the initial birth of westbound transcontinental commercial flights from New York to Los Angeles. While it definitely wasn't the flight experience we're accustomed to today, it paved the early airways for what commercial flying could be—and just how fast it could be done.
"A transcontinental trip in the Tri-Motor took 48 hours, a vast improvement in time over other travel in that era," said Anderson. "The trip entailed several stops for fuel, and at night, the passengers were transferred to train sleeper cars. They would re-board the Tri-Motor each morning."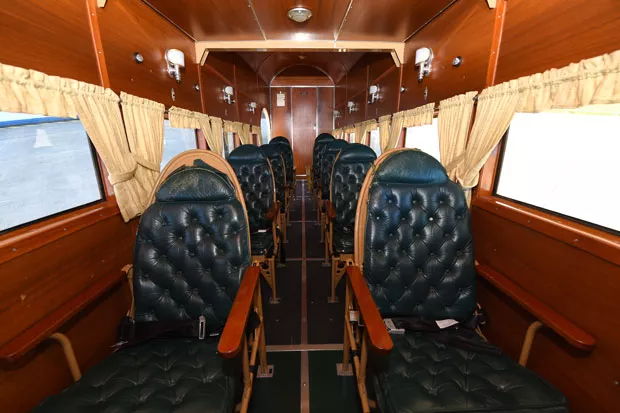 While a 48-hour flight with stops sounds rough today, Soucy recalls that at that time, if someone rode the train the whole way on a transcontinental trip, it would take 10 whole days compared to the two days by plane.
Built with three engines—each with 450 horsepower—Ford wanted to make sure that if there was a problem with an engine, the plane could still fly using the others. The decision to build the planes with all metal was a very important move, as well. Back then, most little flyers were built out of wood and would catch on fire—so the switch to aluminum is what made the Tri-Motors so sturdy and able to stand the test of time.
Soucy has been flying planes for 51 years (he started when he was 13) and Tri-Motors for 27. He says the planes travel at a cool 90 mph and at 1,000 feet in the air—which he says is perfect for sightseeing.
"They have these big glass-framed windows on both sides," says Soucy. "I tell people it's like the sights and sounds of the 1920s."
Fly On The Ford
May 9-12, Thu., 2-5, Fri-Sun, 9am-5pm
Bend Municipal Airport
Flytheford.org
$72/adv. Adults, $52/adv/ child, $77/walk up.