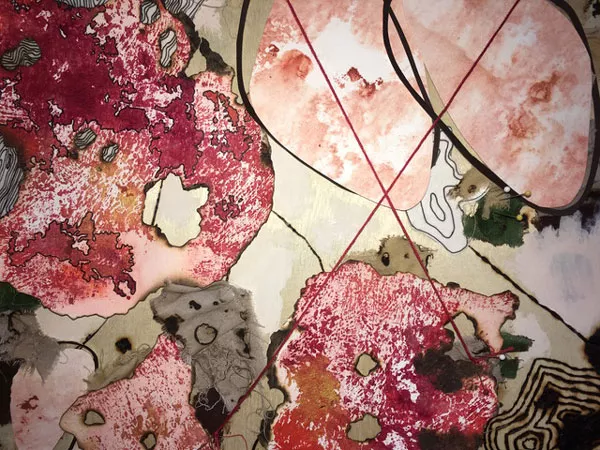 The showcasing of one's work is a right of passage for an artist, vital in an artist's growth and development. Student exhibitions are popping up all over town this month—a great opportunity to see new voices emerging in the community.
OSU-Cascades will showcase two Bachelors of Fine Arts students' work this month on the 2nd floor of the dining hall. Erica Durtschi will exhibit a piece that began last fall as an animation project for a class and grew into a larger claymation piece. On display will be her 3D models used in the animations, as well as the animations themselves. Meanwhile, Alicia Welbourn, who grew up in Central Oregon, will showcase large-scale photographs and three smaller collage panels that speak to a sense of home and the unique topography of the region. Welbourn uses a variety of techniques, incorporating map making and collaging, to give us a new idea of landscape and our connection to it.
Kiel Fletcher, the Studio Art program Lead at OSU-Cascades since 2015, sees the work as an exciting opportunity to witness two new young artists in the community. The program continues to grow at OSU-Cascades and may offer a degree in Arts Media and Technology in the future.
Also currently on display is the annual student exhibition at Central Oregon Community College, in the Barber Library Rotunda. The show was juried by Greg Amanti and Heather Crank of Crahmanti, an art and design collective. "Held every spring term, the exhibition provides students who are studying art at COCC an opportunity to show their work," said Professor of Art, Bill Hoppe. The show features work across a variety of mediums and will be on display until June 7.
OSU-Cascades Class of 2018 BFA exhibition
Opening Reception Wed., May 23
1500 SW Chandler Ave., Bend
Dining Hall, 2nd floor
COCC Student Exhibition
Barber Library Rotunda
May 10 to June 7