Sunriver Brewing Company opened a pub in Eugene early this spring. The Oakway Pub is located in the Oakway Center, just north of Autzen Stadium. It's a decent sized, modern pub, with seating upstairs and downstairs. The upstairs is set up so that you look down onto the first floor of the pub. A bar runs along its rail, so you can sit and watch the other patrons, see their faces as they drink their beer, and watch servers carrying food. The menu is similar to that of both the Sunriver and Bend locations.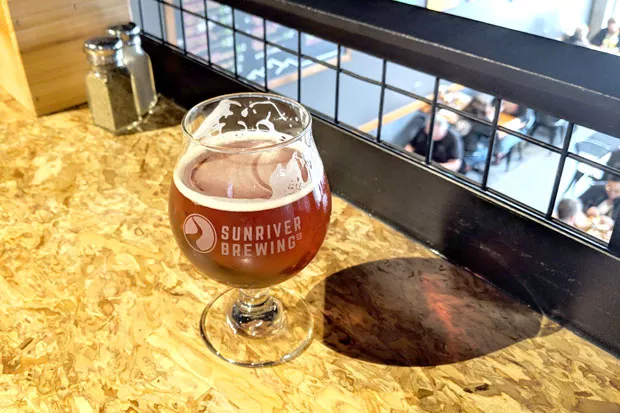 Heidi Howard
Sasquatch Strong Ale; a complex, pretty beer.
It's a great addition to the Eugene area, but I believe that the pubs in Central Oregon are superior. While at the pub, I had their turkey dip (as usual). I love that sandwich. So good. I mean, it's turkey, so I feel better about eating it, but it's got bacon and cheese, so not really.
Enough about food; let's talk about the beer. Sunriver doesn't brew onsite, so the beer selections are going to be the same things you can get in Central Oregon.
I had the Sasquatch Strong Ale. This beer is NOT for the faint of heart, at 9 percent ABV. That being said, drinking this beer, you would never guess it had that high of an ABV because it's just so bright. The aroma is sweet because of the malts and you can also pick up a beautiful and earthy grain. Visually it's on the dark red side, a rich, ruby color. Very pretty.
As is common with a strong ale, the Sasquatch has a very malty backbone, but the hops bring on a citrus that really balances out that sweetness from the malts. Also, from the hops you get some pine notes. The mouthfeel is on the lighter side because of a higher carbonation. I really like this, because it cuts through the syrupiness that can occur in a malty strong ale. The combined flavors take your taste buds on a full tour of the beer experience.
You can taste the sweetness of the malts, and then the hops come around and brighten up the palate with pine and fruity notes. Next, you get the taste of grains, bringing in a refreshing green flavor, and finally it finishes with the bready, biscuit flavor of the yeast. Each part of this beer gets a moment to shine. It's quite a pleasure to sip on while eating a delicious meal and people watching. On my drinkability scale, I give this beer a 3. I will be drinking it again, for sure, but I'm not sure that those just getting into drinking beer can handle the high ABV or rich flavor of this beer. Me, however, I say bring it on!
Sunriver Brewing Company Oakway Pub
329 Oakway Rd., Eugene
541-876-5048
sunriverbrewingcompany.com