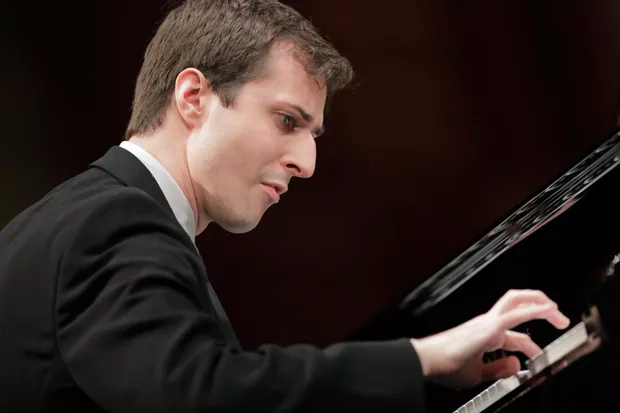 Bend is among thousands of cities celebrating the life and works of Leonard Bernstein this year, the 100th anniversary of the prolific composer's birth. The 2018 Sunriver Music Festival, kicking off with a performance at the Tower Theatre in Bend on Friday, will also celebrate Bernstein, but will be far from a single-composer event.
"All of the works in the series will have some connection to Bernstein," says the festival's Executive Director, Pamela Beezley. "The 100th birthday is a theme that many orchestras and festivals around the world are celebrating this year, and we are doing a lot of great Bernstein music, his own compositions, (but also) including pieces that he is famous for either conducting or arranging. Every concert has some element of Bernstein involved in it."
Friday's opening concert program concludes with George Gershwin's "Rhapsody in Blue." "There is a famous video of him performing that," Beezley points out.
Many of the musicians for this year's festival come from the Pacific Northwest region, most from Portland or Eugene, though some come from as far away as Florida and Oklahoma. Festival coordinators seek out host families for visiting musicians each year.
"Some of our musicians who have been coming a long time, they have established a friendship with a host family. They all look forward to seeing each other," Beezley says.
"This year, some of our longtime regulars are taking a leave of absence, so we're bringing in some younger, new professional musicians who have great enthusiasm. They're excited to be in Central Oregon. It creates this great energy."
Some of those new additions come with impressive accolades. "We have a couple of really amazing young pianists coming in," Beezley says. "One, at the first concert, Drew Petersen, just won the American Pianists Association award. He'll be performing the Rhapsody in Blue. Drew is 24 years old.
"The other pianist, coming in at the tail end of the festival, will have two performances. His name is Kenny Brobeg, the 2017 Van Cliburn International Piano Competition silver medalist. That's exciting stuff. They're both these young, up-and-coming, amazing musicians."
Petersen will be the featured soloist for the opening concert at the Tower Friday. Broberg will perform a solo piano concert Aug. 19, as well as performing Mozart's Piano Concerto No. 17 in G Major at the festival's final concert Aug. 22.
Two of the festival's Young Artist Scholarship alumni are also on the roster. Courtney Huffman, the soprano voice for the Aug. 17 Pops Concert, was an award recipient for eight years, and featured solo clarinetist Benjamin Lulich, who will perform Mozart's Clarinet Concerto in A major Aug. 12, won the award seven years in a row.
"Ben has a long history with us," Beezley says. "He was a winner for seven years. We helped support him with scholarships through high school and college. And now he's the principal clarinetist at the Seattle Symphony, and our principal clarinetist. It's so fun to see. Ten years ago, would we have ever thought Dan would be back as our principal clarinetist? It's a nice success story."



The festival's Young Artist Scholarship program is 90 percent funded by individual contributions, according to Beezley. "It is very well supported by our community, the Bend and Sunriver community. It's a 23-year-old program we've been doing since 1996. So it has some history. Now we're starting to see what these students are doing as professional musicians.
"Some of the other music education programs we do in southern Deschutes County are very dependent on grants, as well as individual donations. But the YAS scholarship program has a life of its own. We're fortunate."
The Sunriver Music Festival orchestra is conducted by Artistic Director George Hanson. Find the complete concert lineup and a roster of orchestra musicians at the festival website, sunrivermusic.org. Note: the Aug. 17 Pops Concert is listed separately from the classical performances.
Sunriver Music Festival
Sunriver Resort Great Hall
17600 Center Dr., Sunriver
Bend Church of the Nazarene
(Pops Concert Aug. 17)
1270 NE 27th St., Bend
$10-$72