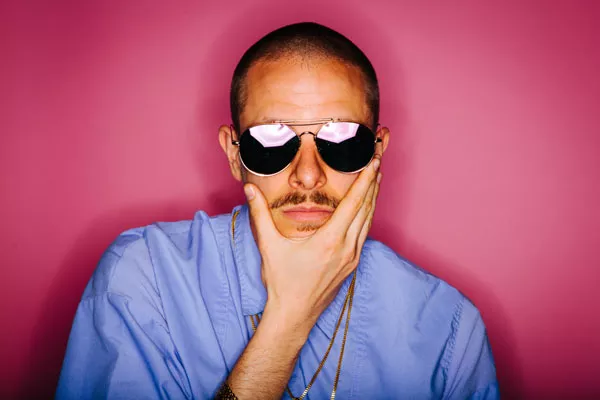 Submitted.
Contrary to the image that might be forming in your mind, "Pookie Baby" is a more sophisticated character showing more human growth.
At the end of 2013, Minnesota-based rapper Prof (real name Jacob Anderson) joined Rhymesayers Entertainment, an indie hip-hop label known for representing Atmosphere, Aesop Rock, Brother Ali and many more of your favorite hip-hop musicians and rappers. Earlier this month, Prof released his second album for Rhymesayers, sweetly titled, "Pookie Baby." Previous to "Pookie Baby," Prof had more of a rough-around-the-edges public persona. With the release of "Pookie Baby," Prof has a more sophisticated take, opening himself up personally and showing growth on a human level.
"A lot of my other projects are character driven," Prof says. "Kaiser Von Powderhorn mixtape series, Gampo. As an artist, and as a human in general, I tend to contradict myself and I'm more than OK with that. I have different moods, a wide variety of interests and goals, and I feel like these characters help me talk my shit across all spectrums."
On "Pookie Baby," Prof gets personal. From the intimacy of sending another human naked pictures of yourself on "Send Nudes" to the fragility of life on "Eulogy," Prof tackles vulnerability while still maintaining an upbeat party vibe.
"I've always been very open and willing to share super vulnerable moments in my music," Prof says. "I think if you want to go deep and really immerse yourself in this music shit, you gotta open up and let it all hang out. I feel like letting the fans into these dark personal moments is just the right thing to do."
For Prof, the writing and creating process varies and changes all the time. When it comes to writing, he likes to be himself. He likes to have control over the beat so he can change and produce different dynamics on the fly while he's writing.
"The way I manifest my creativity is super complicated, and changes all the time, but in a super paraphrased version, for 'Pookie Baby,' I started with rhythm and melody writing and plugged in lyrics after the fact. I think that helped me with the overall vibe and cohesiveness with the songs and the record."


Beyond the album, Prof has become known for his energetic live performances. Leading up to a show, he does vocal exercises to prepare.
"I feel like if people are nice enough to buy a ticket to my shows, I better be hitting those hard notes nice and crisp," Prof says. "I'm working 24/7 on tour to make sure I don't lose my voice. I chill super hard for a couple hours leading up, I don't like to talk to people backstage, but then when I warm up and stretch — a little caffeine, a shot of liquor, and I'm good to go. Super Prof."
For Prof, crowd interaction tops the list of reasons he loves performing.
"I love it when everyone is on the same level, same heartbeat, jumping in rhythm, sweatin' and buckin'," Prof says. "I also like the super low emotional moments where you could hear a pin drop in a sold-out room. I like getting off stage knowing I gave it everything I had."
Prof
Sun., May 6. 9pm
Domino Room
51 NW Greenwood Ave., Bend
$15