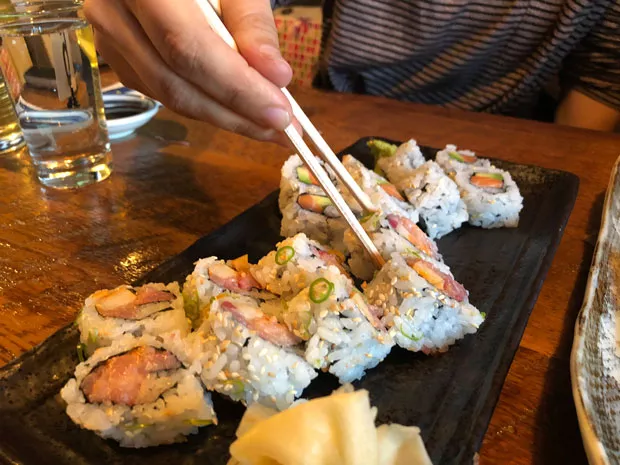 Lisa Sipe
The spicy yellowtail roll delivers a kick for spice lovers.
Kusshi is the kind of place you hear about through the grapevine. Its Yelp page is unclaimed, and they don't advertise. Kusshi simply pops up, appearing Thursdays and Fridays downtown at White Water Taphouse. Pop-ups are temporary restaurants typically used to gain exposure before opening a brick-and-mortar location.
Chef owner Ian Skomski said he named the restaurant Kusshi because it "is my favorite variety of oyster that is grown in the Pacific Northwest. It means 'precious' in Japanese, and it rhymes with sushi!" Skomski is a graduate of the California Sushi Academy, the first vocational school specializing in the training and certification of sushi chefs. Before moving back to Bend, Skomski was chef-owner at Boxer Sushi, a highly successful restaurant in Portland.
The atmosphere is friendly at the Kusshi pop-up. The White Water Taphouse staff runs the front of the house, so they take your order at the bar and deliver your food. The menu features small bites, poke, nigiri, sashimi, rolls, hand rolls and specials. Most sushi is individually portioned—easy to share.
We eat with our eyes first. When our Hawaiian tombo tuna sashimi arrived, it was gorgeous. The deep pink tuna was layered in a line and dotted with bright green wasabi tobiko, a horseradish-flavored fish roe. The tombo was soft and fresh and the tobiko provided delicious crunch. Next up was the spicy yellowtail roll—a kick in the taste buds. The spice lovers at our table fancied it, but it was too intense for some.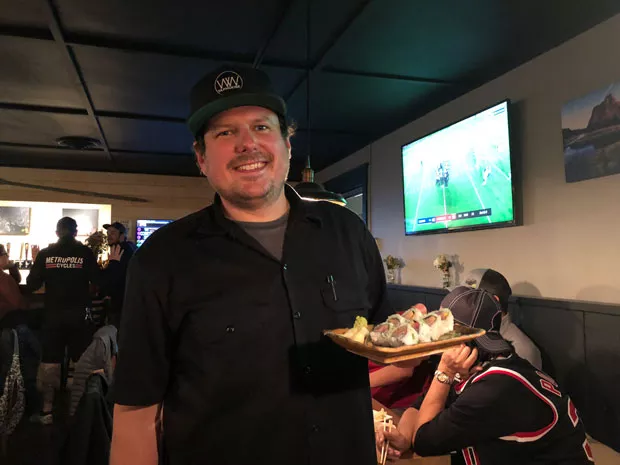 Lisa Sipe
Chef Ian Skomski works solo in the kitchen at the pop up.
The real standout was the hamachi poke with scallion, Persian cucumber, hijiki seaweed, kale, poke sauce, sesame seeds, chili-herb sauce, heirloom carrot and watermelon radish served over sushi rice—a vibrant rainbow of colors and textures with light, adventurous flavors. I loved everything about it but the disposable plastic bowl. It didn't make sense when everything else was on Asian style dinnerware.
Skomski takes creative license when dishing out his sushi, but you can see his strong respect for each ingredient and tradition. When the raw fish veers too far from sushi, he calls it like it is: carpaccio or ceviche. The mussel ceviche sprinkled with fresh cilantro and crisp, thinly sliced cucumber and carrot was unlike anything I've ever had. The mussels were soft with a bit of chew and the light sauce wrapped everything together. If you've never had mussels, try this dish; it celebrates what makes them delectable.
Most everything, unless noted, on the menu is gluten free because Cyndi Skomski, Ian's wife and co-owner, has celiac disease. I dined with two gluten-free friends and they were stoked they could order anything.
About Kusshi, Cyndi Skomski said, "I think it's important to convey this is a single-person operation (smaller than a food cart) and with the artistic nature of sushi and care for the ingredients and quality, sometimes there can be a longer wait time to receive the food. With a brick and mortar location and the opportunity to hire other chefs, this would of course go away." The Skomskis hope to have permanent space by next summer.
Lisa Sipe
The beautiful plating at Kusshi is an invitation to savor each combination of raw fish.
"As a micro business wanting to ensure the freshest and highest quality ingredients," said Cyndi Skomski, "we only order what we believe we will use to prevent waste and help with expenses. That often involves estimating sales, and on exceptionally busy nights we have sold out in the past." To ensure a table, I recommend arriving earlier in the evening. Because White Water Taphouse is a bar, only adults 21 and over can dine at Kusshi. Cyndi Skomski is looking forward to when they have their own location, because, she says, "We have friends with kids and we'd like more people to access our food."
Kusshi at White Water Taphouse
1043 NW Bond St., Bend
847-707-9637
kusshibend.com