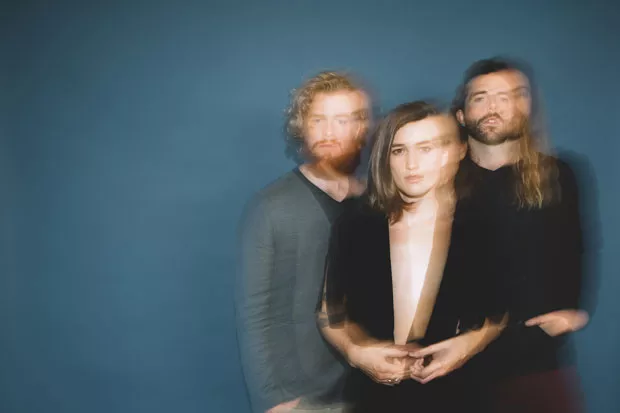 Stephanie Bassos
It's only a matter of time before seeing The Ballroom Thieves at an intimate venue like Volcanic Theatre Pub is a blur of a memory. See them in Bend on Saturday, 10/20.
Once in a while, a band comes through town and you just know that someday they'll be headlining the Les Schwab Amphitheater. After listening to songs like "Fistfight," from the recently released EP, "Paper Crown," I have no doubt The Ballroom Thieves will be one of those bands about which we'll say, "I saw them when..."
Fans of The Head and The Heart, The Avett Brothers and The Lumineers, don't hesitate to snap up your tickets to this show.
The Ballroom Thieves, which include guitarist Martin Earley, drummer Devin Mauch and cellist Callie Peters, have a fresh and energetic sound that blends indie-folk with rich harmonies. The band features tasteful and intriguing arrangements that complement the deeply personal lyrics. "Paper Crown" came out in May, and last week, the band started to release songs that will be included on their forthcoming EP of cover songs.
"We've always enjoyed playing cover songs in our live sets—it just kind of made sense to record them," Earley says. "Some of the songs that are on this upcoming EP, we've played live for years. The idea was that we would each sing lead on one of the songs. Essentially, whoever sings lead on each one picked the song. I chose 'Hymn #101' (originally by Joe Pug) because I really love that song and the lyrics get me every time."
You can listen to "Hymn #101" on Spotify and other streaming services, while the other songs and complete EP will be released in the near future. With more than 1.6 million monthly listeners, The Ballroom Thieves have already landed on some of the streaming service's most popular playlists.
For the "Paper Crown" EP, the band worked with producer Ryan Hadlock, best known for his work with The Lumineers, Brandi Carlile and Vance Joy. Earley says Hadlock's influence came through in clearing things out in the mixing and moving the vocals to the foreground.


"It really feels like a live record of a band playing together in the studio," Earley says. "He helped us with things we were interested in doing, but didn't have a concrete plan for how to achieve them. He really knows his room and has been doing it for 30 years. He knows the different tones they can get out of each instrument in that space."
The band already has plans for a full-length album they'll likely record over the winter.
"I would say the EP is kind of a stepping stone, a pivot between where we're coming from and where we're going," Earley says. "I think the EP serves as a nice in-between. I think our sound is changing pretty organically, but is definitely changing."
The Ballroom Thieves boast the complete package when it comes to indie-folk — the marriage between rich textures and sounds with personal, often catchy lyrics that make a listener feel something. Each of the members takes their turn singing lead vocals. Earley and Peters collaborate often on songwriting duties. Earley also has collaborated with his sister, Annika, an artist who also writes a lot of songs. Because she doesn't have a vehicle to get them out, she collaborates with her brother and Peters, sending him lyrics and getting excited when the band can use something. So far, the family collaboration has resulted in two songs, "Blood Run Red" from the album, "Deadeye," and "Can't Cheat Death," from "Paper Crown." Earley calls the songs two parts of a trilogy with the third song thus far unwritten.
The Ballroom Thieves
Sat., Oct. 20. 9pm.
Volcanic Theatre Pub
70 SW Century Dr., Bend
$12/adv at Bendticket.com