Scott Gilmore and Sarah Vitort met about three years ago, while Gilmore was checking out one of Vitort's acoustic shows. That moment was an instant bond for the two future collaborators. Music would become the foundation for their future.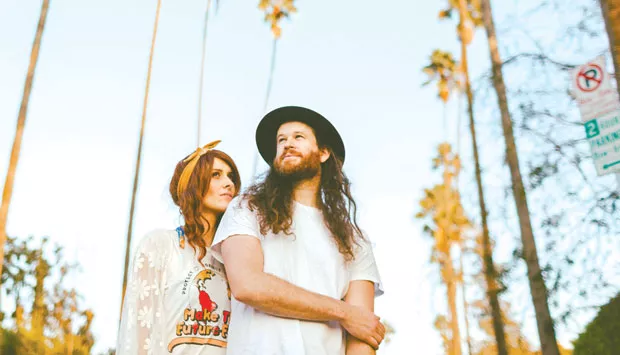 Submitted
Fox and Bones plan to let their third album grow organically on the road.
"I immediately fell in love with her talent and songwriting," recalls Gilmore. "That evening we planned to write a song together, and by the end of the week, over the internet, we had written a song—and the song was good! We just kind of never looked back from there."
In the beginning of their time as a duo, Gilmore and Vitort created characters to work into their songwriting. The character's names? Fox and Bones, of course. Some of what was in those characters is actually true to reality. Vitort's character is Fox—a down-and-out bad girl, according to the group's website, while Gilmore is Bones—the rootless bad boy.
"We devised these characters as a way to live our dreams out on the road," Gilmore told the Source. "We wanted to create the characters as a vehicle for which to create the world we wanted to live in."
This was an early development of Fox and Bones as a musical group—one Gilmore says they sometimes still use in their writing process, as it awards more freedom.
Gilmore's beginnings in music were in elementary school, mostly spending his time learning the Ninja Turtles or X-Men theme songs on the piano. Gilmore's parents never pushed him into lessons, but he was still able to pick up piano and guitar along the way, he says.
"It wasn't until maybe my late teens where I sort of found my stride and dedicated myself to the instrument in a more studious manner," Gilmore says of his musical upbringings. "Sarah, from a young age, took guitar lessons and vocal lessons, was involved in choir, and musically speaking, she's quite talented in all those efforts."
Fox and Bones' music is made for those who are after adventure or who are running down a dream. The sound feels vast—like being in an open field with nothing but your thoughts narrating to the future.
"I think that's one of the biggest pillars of this. We're all working towards this goal every day of becoming more and more of ourselves," details Gilmore about the themes in their music. "We're 100 percent enwrapped in this craft. We're always attempting to be the best that we can be but to also keep moving forward. The more we put into it the more we get out of it."
While the duo's first album was more focused on the characters, with their sophomore effort, "Better Land," Gilmore says they worked on expanding their scope to speak more about doing something positive in the world.
"I'd like to see people trust each other more. I'd like less barriers up," says Gilmore of what he'd like to see change. "I think one big thing—especially in the U.S.—that we're finding is that we spend so much time placing people on two sides of the fence. Ideally, what we could benefit the most on, is focusing on our similarities rather than our differences."
Fox and Bones
Mon., Feb. 18, 8pm
Velvet Lounge
805 NW Wall St., Bend
FREE