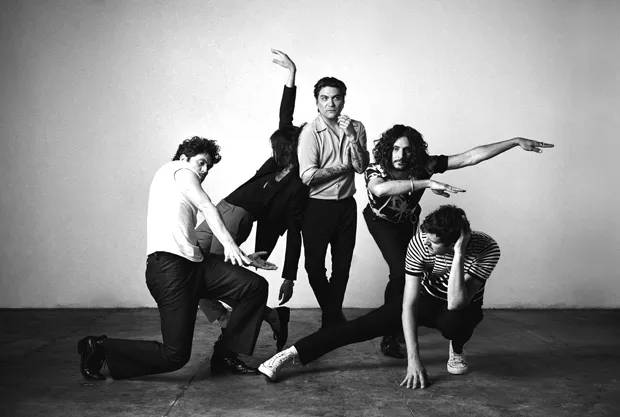 Submitted.
Octavio Genera (center) and the Soft White Sixties will put you in a California state of mind.
When The Soft White Sixties entered the studio to record a new album, "Alta California," its members wanted to be able to capture the spirit of their live performance, after producer Elijah Thompson pointed out how sterile the recording atomsphere can be when compared to the energy and grit of a live show.
"Some bands will write in an environment, perform in an environment and then go to record, and it's a sterile environment," lead singer Octavio Genera says. "The pressure that bands can put on themselves in the studio is hard because everyone is under a microscope."
Thompson helped Genera and his band mates alleviate some of that pressure by creating a recording environment that didn't feel so sterile. They'd take breaks or go get a drink, which helped to relieve some of the self-imposed pressure they put on themselves.
All that resulted in an incredible album that carries on the soulful, rock-pop sound for which The Soft White Sixties have become known. The album itself takes on transitional personal themes, while also dipping into heavier topics such as immigration and challenging the American Dream.
"Eli and I would sit down and talk for an hour or two, conversing back and forth, getting to know each other," Genera recalls. "The topic came up of my mom immigrating here when she was 11 or 12 and my dad being born in Texas and then going on to Stockton where I was born. The weird thing was, the day we were working on the song, 'Brick by Brick,' was the day my grandparents came to the U.S. This is the actual day. It wasn't anything in being heavy handed and wanting to address this, it was just in the air. It was all over the place—this idea of building a wall—and it's pretty frustrating when someone throws a blanket statement over very different situations for every person. It was frustrating to hear."
The Soft White Sixties sing about how if a wall is built, that they'll tear it down brick by brick. While recording, the band generally did music first, adding lyrics after. Genera imagines if he'd written the song on an acoustic guitar before the music came in, it may be a very different song.
"Alta California" means "New California," which with songs like "Brick by Brick" can take on different meanings. For this California-based band, it speaks to the band rediscovering themselves after relocating from San Francisco to Los Angeles.
"We moved from the north to the south; it's a different culture, Genera says. "It was a kind of a new take on a home we've already had. It kind of shook us up emotionally and when the dust settled, this is the album that we made. I could feel the shiftiness and trying to find out how to fit in the world around us. 'Alta California' lent itself to these new feelings for us."
"Alta California" features a song called "I Still Miss You, San Francisco," which is about watching things change you really loved about a city, but also still loving it. It comes as no surprise that Genera says it goes over well when they return to San Francisco to perform.