T
he Portland Trail Blazers are undoubtedly Oregon's team. Other than the Portland Timbers and Thorns—the men's and women's professional soccer teams—the Blazers are the only team representing Oregon in the "big four" leagues (NBA, NFL, MLB, NHL).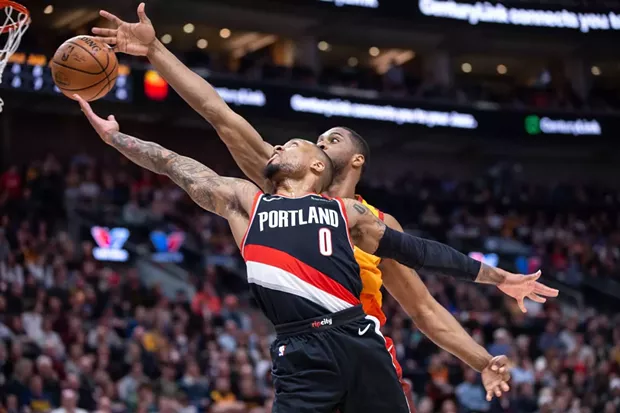 There is a certain pride to the team being based in Portland. Damian Lillard yelling "Rip City" into the mic after a buzzer-beating playoff victory over the Houston Rockets in 2014 is iconic. But what if they weren't just the Portland Trail Blazers?
State Rep. E. Werner Reschke (R-Klamath Falls) is at least one Oregonian who'd like the name to be changed to the "Oregon Trail Blazers," presenting this idea in his recent House Concurrent Resolution 15.
"I introduced HCR 15 to be all-encompassing statewide. This is Oregon's team, not just Portland's," said Reschke in a press release. "First, it is historically more accurate – but most importantly, the name "Oregon Trail Blazers" is more inclusive."
While Reschke may share the sentiments of some others, would a name change really matter?
The Trail Blazers are already beloved throughout the state, carrying the "Portland" name from their inception in 1970, thanks to a "name the team" contest. Reschke believes the change would allow even more Oregonians to embrace the team. There are currently six teams in the NBA that use the entire state as a locator: the Utah Jazz, Indiana Pacers, Golden State Warriors, Washington Wizards, New York Knicks and the Minnesota Timberwolves.
The idea comes at an interesting time for the franchise, after its beloved owner Paul Allen passed away in October. The Trail Blazers will also be celebrating the team's 50th year anniversary in 2020. In a
video from The Oregonian
, head coach Terry Stotts was pretty blunt in voicing his stance against the proposed idea, stating "I did not see that, and it's the Portland Trail Blazers."
As for others in the organization, a similar sentiment was given. "We appreciate Rep. Werner Reschke's recognition of the Trail Blazers and what the franchise has meant to our city, state and region for what will be 50 years next season," Trail Blazers Vice President of Corporate Communications Michael Lewellen told the Source Weekly in an email. "We have no plans to change our name. Even though we play our home games in Portland, we consider ourselves to be Oregon and the Pacific Northwest's team."
What do you think? Keep with what's been in place, or is it time for change for Oregon's NBA team?