With the new year came a big change at Cascade School of Music—including a new Executive Director, Robert Lambeth, and the relocation to a new space on 3rd Street and Emerson.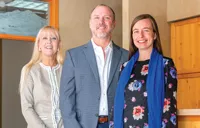 Submitted
Cascade School of Music's Development Director, Kate Hanni (left), Executive Director, Robert Lambeth and Registrar, Carly Marunowski.
As the zealous Lambeth walks through a labyrinth of music rooms (formerly real estate offices) in the school's new building, the melodic notes of an electric guitar and bass become louder and clearer. The talent is undeniable. Shockingly, the musicians are tweens and have been playing for only two years.
Youngsters Andres and Roman are two members of the Fearsome rock band, one of many ensembles CSM hosts while training the musicians. Their pedagogue, Nathan Wegner, who also teaches saxophone, compares Fearsome's sound to the Foo Fighters (an alt-rock throwback from the '90s). Andres compares the sound to "old school rock 'n roll." Roman shares a little about the music programs at CSM (of which he is enrolled in several), enthusiastically exclaiming, "It's awesome here. I have learned so much from my teachers."
Lambeth beams over the whole exchange like a doting parent.
Being a former opera singer with a cornucopia of other music industry experience, Lambeth was the perfect fit for the CSM executive director position, which he started in April 2018. His first mission in the role: find a new building for their 522 students.
Now with more classroom capacity, Lambeth has increased the number of enrollees to 700 (22 percent adults, 78 percent youth) and brought the total number of teachers to 32, with four new hires.
New onboard is the Emerging Faculty Program, which Lambeth also set in motion. The inspiration? Two of the new teachers were musically trained in the CSM program and were ready to graduate and move into a teaching role.
Lambeth, always looking toward a comprehensive vision, says he wants to continue to bolster and support students even as they move beyond the confines of CSM in Bend and into their music careers. He hopes to bring advice and guidance by engaging and exposing students to music industry folks on all levels, in all genres.
At CSM, to grow musically, pupils are offered individual lessons, classroom instruction, camps and performance ensemble opportunities, as well as Kindermusik classes for the younger set. With pride, Lambeth notes, "Our youngest student is 2 months old and our oldest is 82!"
In addition to Kindermusik, for the younger proteges, classes with titles like Cuddle & Bounce, Sing & Play and Moove and Groove are offered.
To round out CSM's offerings, Lambeth points to a vibrant outreach program anchored to participating organizations including Bear Creek Middle School, Latino Community Association, Boys & Girls Club, MountainStar Relief Nursery and REACH. As a community music school, CSM chooses to make music education available to everyone through tuition assistance and an emergency tuition assistance program providing a 30 to 50 percent cost reduction for students in need. Rentable instruments and scholarships are also available.
"We are passionate about underserved youth," shares Lambeth.
K.M. Collins
Roman finger picks "Sunday Bloody Sunday" by U2 with back up from bassist, Andres.
Some of this passion is fueled by Lambeth's own experiences stemming from a premature birth, a speech impediment and cognitive setbacks, though these roadblocks are far from evident today. "Seeing cognitive development issues in children hits home for me," says Lambeth. For this reason, Lambeth says cultivating a music therapy program is next on the docket.
About tuition assistance and her daughter's experience with CSM, local mother Misa Olsen relays, "My daughter came to CSM with raw talent and a love of music... Ani has been introduced to a variety of musical genres, has worked with people from all walks of life and has learned what it means to work as part of a team. She also has learned about dedication, responsibility and hard work. Her journey might never have happened if we had not received a scholarship for her initial venture into music..."
With a new leader and location, CSM is amplifying its mission like never before: to enrich the community by providing exceptional music education and experiences for all Central Oregonians. In the words of Lambeth, printed in the program guide, "Whether you're looking to develop the mind of your one-year-old or maintain your cognitive abilities as a retired senior... I invite you to discover, or re-discover, the power and joy of music!"
As a 501(c)3 non-profit, income from tuition covers 65 percent of operating expenses, with the rest coming from community fundraising.
Cascade School of Music
541-382-6866
info@cascadeschoolof music.org
cascadeschoolofmusic.org
200 NW Pacific Park Ln., Bend