A
n adult film star, in town to perform in a strip club, as she continues to battle the President of the United States over an alleged affair.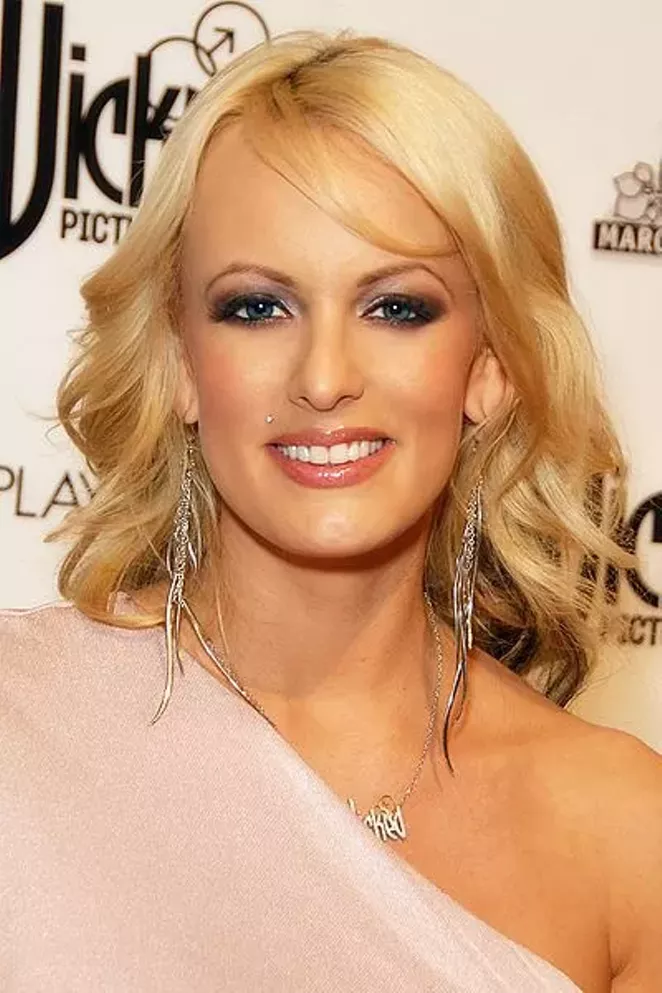 This stuff just doesn't happen all that often in Bend, Ore.—but it did last month. It was a one-night appearance, but
Stormy Daniels' performance
at Stars Cabaret May 17 continues to live in infamy, apparently.
As the Source Weekly reported May 23, Daniels stormed off the stage shortly after beginning her late-night performance, after a
patron at Stars
allegedly threw an object at Daniels. That object was a wallet, according to reports our reporter received on the scene.
On Tuesday, the office of Deschutes County District Attorney John Hummel announced that he'd launched an investigation into the matter at Stars, trying to determine whether the alleged perpetrator committed the crimes of harassment or assault. A press release from the DA's office states that Hummel reported he spoke to Daniels' attorney, Michael Avanatti, who told Hummel Daniels did not want to file charges against the Stars patron.
The plot gets thicker from there. Hummel's office stated in the release that he wanted to take a look at the surveillance video taken the night of the incident at Stars—something Stars' owner, Randy Kaiser, said he would keep until police picked it up. That video was instead destroyed, the release stated, and without that video, Hummel didn't have the evidence needed to charge the patron with any crimes. Hummel did consider charging Kaiser with tampering with evidence, but ultimately, Hummel determined that Kaiser didn't destroy the tape on purpose; stating it was recorded over "per the usual retention schedule set on the club's surveillance system."
The story isn't over yet, though, friends.
The release also states that Hummel filed a complaint with the
Oregon Liquor Control C
ommission, asking the OLCC to investigate whether employees at Stars overserved the patron accused of throwing the object. According to the press release, the patron said he threw the item at Stormy Daniels because "I was being wasted."
Alas, much like Daniels' continuing saga with President Trump, the saga of the tossed object continues to live on in Bend—though clearly, Daniels has bigger things to worry about.
Daniels says Trump paid her hush money to keep their alleged encounter in 2006. And just today,
CNN reports
that Daniels initiated a new lawsuit against her own former attorney, Keith Davidson, as well as Michael Cohen, Trump's personal attorney. Daniels accused the two men of acting in concert to manipulate her, according to that CNN report.
Editor's note: This version has been corrected from its original version, to reflect that the object the patron allegedly threw at Daniels was a wallet, not a drink as we originally reported here. We regret the error.