Picture it: You and a buddy take off for a late afternoon snowmobile session, get a bit off trail and end up in the City of Bend's watershed. You're tired of shoveling snow, only to get stuck again and again. Your cell phone battery is running low and the weather is starting to dip into the teens. Friends and family put in a call to the Deschutes County Sheriff's Office, who contact DCSO's Search and Rescue, a group of 120 or so volunteers who will wake up at all hours of the night and spend countless hours trying to get you back to safety.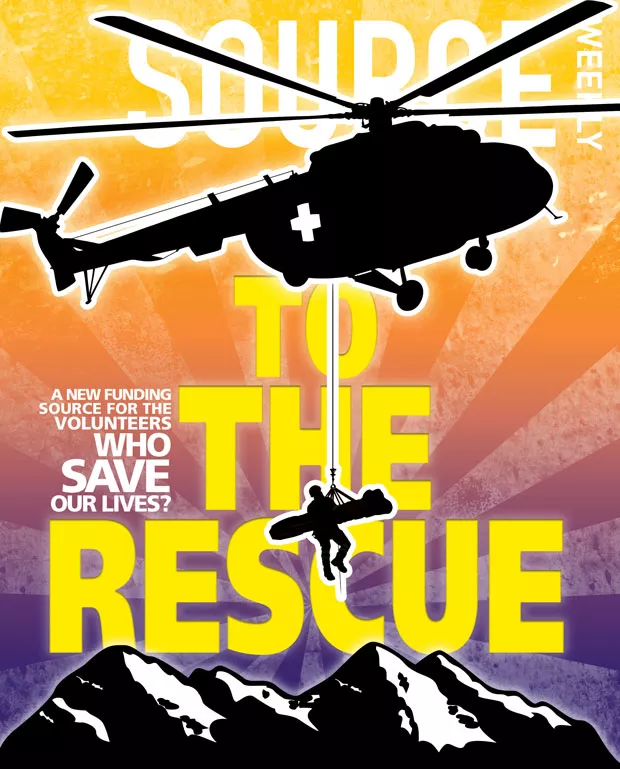 But these rescues come at a cost. Currently, the state of Oregon doesn't fund any county SAR teams. All the money comes from county budgets and donations.
A state House bill
Deschutes County's SAR gets a budget of about $1.1 million per year, covering personnel costs, insurance, equipment and other operational costs, according to Lt. Bryan Husband, coordinator for Deschutes County Sheriff's Office SAR.
The rest of the funding currently comes from fundraising—but if House Bill 2503 passes during this year's Oregon legislative session, that could change. The bill, sponsored by a bipartisan group, including Rep. Jack Zika (R-Redmond) and Cheri Helt (R-Bend) would direct the Oregon Office of Emergency Management to research and recommend state funding options for county search and rescue programs by 2021.
"It would be a great asset to us in getting state funds," Husband said.
Husband said he believes the money will be tied to the number of missions each county's SAR goes out on. He said DCSO SAR averages between 120 to 130 per year, with the summer being the busiest.
Current fundraising tools
The Deschutes County Search and Rescue Foundation started in 1992 with a goal of raising funds to support the DCSO SAR. In 2017, the foundation raised about $95,000. Most of the money goes toward equipment, but it also pays for training and meals on long missions.
"So far this year we've committed to buy or help buy about $48,000 worth of items for Search and Rescue," SAR Foundation Board President Dave Carroll said. "This year will provide funds for our drone team, our air operations team, to buy a very expensive camera they wanted that now gives night vision capabilities and all that sort of thing."
Carroll said the funds will also help modify a vehicle to make swift water rescues move more smoothly. He said most of the money the agency raises is from its fundraising activities and the occasional estate gift that comes in unexpectedly.
"We did have a great year in 2018 for a couple of reasons. One, the bingo operation, has turned out to be far more successful than anyone's wildest dreams," Carroll said. "And we got a much larger-than-we've-ever-gotten-before gift from an estate from somebody who passed away."
The bingo Carroll referred to is held at Silver Moon Brewing from 10:30am to 2pm each Sunday. According to Silver Moon, a portion of the bingo sales goes directly to the SAR foundation.
Other local events also support search and rescue operations. On March 26, 10 Barrel Brewing is hosting its eighth-annual SAR fundraiser, in which all profits from food, beer retail and growlers from 5 to 9 pm will be donated to SAR. Also, through the end of March, the funds from its "Drink More Give More" T-shirts will be donated to SAR.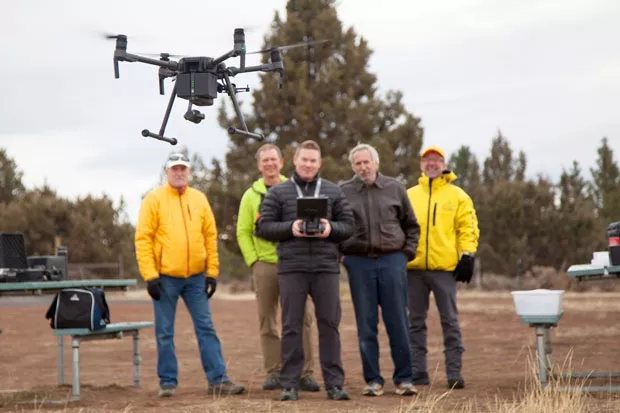 DCSO Search and Rescue
Members of the DCSO SAR Air Operations Team practice flying a drone.
Why volunteer?
Dan Dawson, who's part of the SAR's Air Operations Team, said the average volunteer put in about 193 hours of volunteer time last year. A moderately active volunteer will put in about 200 to 400 hours, while some will put in nearly 700 hours, Husband said.
"I grew up in a family that believed that you need to provide a positive value to society," nine-year SAR veteran Kelly Patrick said. "And I'm retired and I have time. I gives me self worth. My psychic reward is that. I feel like I make a difference—part of it is selfish because it makes me feel better about myself."
Dawson said he'd always wanted to get involved, but his full time job back in California didn't allow time for that. Now self employed, he's found the time.
"I like to volunteer and this was an area that I really liked—and then for that selfish aspect—it's doing stuff I love to do. I'm flying drones, I'm in a helicopter, I'm doing the stuff I like to do. I'm increasing my skills and I love to teach and I love to help train people to increase their skills and this team lets me do that," Dawson said.
Husband has a few important points he shares with new volunteers. "Obviously, we want folks that want to be here to help their community and help folks out, but we also try and get them to think about it alternatively too, because a lot of our missions that we go out on—and it's for someone who really has made a bunch of bad decisions and sometimes, you know, they aren't as grateful as you think they should be," he said. "Or, they'll spend hours and hours searching for somebody who turns up that they got out on their own and they went home and they didn't call and tell anybody about it, or they're down at the bowling alley."
With those points, Husband says he tries to get volunteers out of the "saving people" mentality—because that part of the job is rare. "It needs to be about the people you're surrounded by here in SAR, and being part of a team, doing some pretty high level things as a team, and feeling that reward from that."
Dawson advises people to think of the team mentality, too—and the fun involved.
"You love to ski, you love to go snowmobiling, and you take 20 of your friends to go do it with you for a cause," Dawson said. "Gosh, it's a great day."
The longest-serving volunteer
As the SAR coordinator, Husband meets a lot of volunteers. He called out one in particular, Leo Rank, who Husband believes has been volunteering longer than he's been alive, starting out in the 1972 SAR academy. Husband said Rank was a Bend firefighter for his profession and did dive missions and swift water missions in his younger days, but now does logistics because he knows the equipment.
"On a weekly basis he'll spend a couple of hours just going through equipment and stuff, making sure everything's set up and ready to go for us," Patrick said. "He doesn't do a lot of ground stuff anymore—although he wants to—but he's just an incredible resource, has an incredible attitude and is willing to help anyone with anything."
DCSO Search and Rescue
Air Link provides the Air Operations Team with helicopter support.
Not a life exchange
With backcountry missions, rescues from high climbing peaks and river rescues being just part of what SAR does, there's often an element of danger. Still, Husband said that he's unaware of an SAR volunteer dying while on a mission. The teams train, and decisions are made, always with a mission to keep volunteers safe.
"We're not in the business of trading lives. We're in the business of helping people, but not trading lives," Patrick said.
"Avalanche cases where you've got someone who's been buried for a long period of time, but yet you still have all this other stuff that's going to come down, we're not going to put our people there where this is a recovery, this is not a rescue," Patrick said. "It's a tough decision, it's probably the hardest decision anybody has to make, because you have family and people who say, 'Why aren't you in there, why aren't you getting them out?'
"As I said, we're not in the business of trading lives, particularly if someone's already gone," Patrick continued.
A baby rescue
Both Patrick and Dawson said multiple-day missions have left indelible images in their minds, but there's one demographic that gets everyone together: kids.
"The missing baby in the forest," Dawson said. "The response to that was huge, we got the firefighters out there walking a line search, we were flying drones, we had a helicopter coming in overhead... I mean, that's just the perfect example of why we do what we do.
It's like, oh, there's a kid out there? OK, let's go. Change everything. All the plans go away. Let's go."
The incident Dawson's referring to happened on May 9, 2018, when a one-year-old boy was left overnight, allegedly by his father, in the forest land between China Hat Road and Tekampe/Sholes Roads. At about noon the next day, the boy was found naked and lying in the dirt about 1 mile from the family's car. During the search, SAR activated DCSO detectives, patrol personnel, SAR ground and horseback searchers, drones and helicopters with thermal imaging.
HB 2503—the bill that could eventually lead to state funds for local search and rescue operations—is currently in the Oregon House Committee on Veterans and Emergency Preparedness. Legislators held a public hearing Feb. 28 and referred the bill to the Joint Committee on Ways and Means.