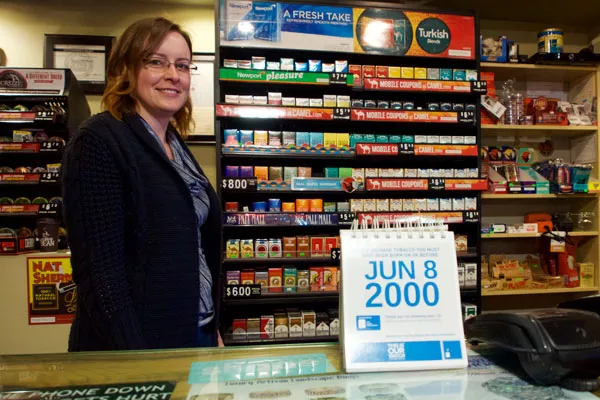 Source Staff
Justine Rhoads stands in front of the cigarette display at the Bond Street Market, Tuesday, Jan. 16. Although the new smoking age took effect Jan. 1, Rhoads said the Oregon Health Authority sent out a sell-by calendar that still shows 18 years of age as the sell-to date. Rhoads said only out-of-state teens had attempted to buy tobacco.
Remember the ol' adage, "Old enough to fight and vote, old enough to drink and smoke?"
Nah, not really.
As of this year, those under 21 can still make life and death choices or vote for presidents, but they can't buy smokes.
Recent statistics by the Oregon Health Authority and the National Youth Tobacco Survey show an increase in both adolescent smoking and a rise of premature deaths in Oregon. But a new law, effective Jan. 1, bans the sales of tobacco-related products to those under the age of 21. That includes vaping.
With the move, Oregon becomes the fifth state in the U.S. to raise its minimum age from 18 to 21—even though the health warnings about smoking from the U.S. Surgeon General began nearly 30 years ago. The OHA reports that 90 percent of long-term smokers begin by the age of 18. Tobacco is also the number-one cause of preventable death in Oregon, with 7,000 annual deaths in the state alone and more than 500,000 national deaths per year, according to the OHA. Advocates hope that by raising the legal age of tobacco to 21, it will delay chronic use and curb the rate of cancers and diseases.
"Nine out of 10 adults report they started smoking before they are 19 and nearly 100 percent start before the age of 26," said Oregon State Epidemiologist and State Health Officer, Dr. Katrina Hedber. "The earlier kids start using tobacco, the more at risk they are for becoming addicted to tobacco and developing chronic disease such as heart diseases, asthma and cancer.
"Raising the legal sale age for tobacco products to 21 can reduce smoking rates and reduce tobacco-related death," she concluded.
A mellow rollout in Central Oregon
Sanji Gupta, who works at the 76 station in Madras, said the transition to Tobacco 21 has been "relatively easy." Though she's had to turn down a few sales, the long transition period for the new law has enabled most consumers between 18 to 21 ample time to get informed. The law was officially signed by Gov. Kate Brown Aug. 9.
Bright, shiny stickers announcing the increase were visible in all of the retailers the Source Weekly visited throughout Central Oregon, with most retailers reporting no big changes.
"I think it was probably a case of one kid blasting it on social media or Snapchat or whatever whenever it went down, and so everyone's kind of scared of asking for it until the media calms down about it," said Anthony R (who asked to have his last name withheld), who works for a local retailer on Bend's west side. "I'm sure once the media attention dies down, we'll probably have some kids try and buy it."
First time offenses are $50 for clerks caught selling tobacco to minors, and $250 for managers. Those fines increase with each infraction, and can reach $500 and $1,000, respectively.
Slowing tobacco usage
The rate at which Americans consume tobacco has been—overall— steadily dropping. OHA estimates that only one-sixth of adults smoke regularly, a more than 50 percent drop over 50 years.
Interestingly, heavy taxation of tobacco, the amount of which varies from state to state, could ostensibly de-incentivize states from raising minimum ages, since it would curb tobacco taxes. The federal tax on a package of cigarettes is $1. Oregon's is below the national average of $1.72, at $1.33 per pack. By contrast, New York's state tobacco tax rate is $4.35.
Still, youth tobacco rates are on the rise, with the National Youth Tobacco Survey reporting that in 2014, overall tobacco use among teens grew. The nonprofit attributes it to the rise and accessibility of electronic cigarettes, otherwise known as vape pens, which some experts say give the impression as being "less harmful." In additional, small cigars, hookah water pipes and tobacco flavoring have all leant to the increase.
At Deschutes County Behavioral Health, experts there say there's no "one magic bullet" to preventing tobacco use among teenagers; however, raising the age is one start. Also helpful: increased taxes, counter marketing, school programs and increased awareness of cancer and lung disease risks.
Momentum has been growing since 2013. New York and Hawaii were the first states to officially increase the age to purchase tobacco. Combined with a local excise tax, a pack of cigarettes in New York City can cost upward of $13. The same pack in Kentucky, with fewer taxes, costs about $4.77. Kentucky also has the highest smoking rate in the nation, at 26 percent, according to the Truth Initiative.