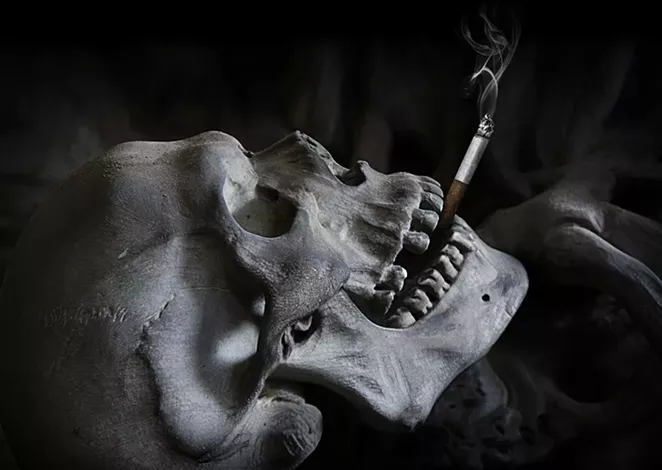 Tobacco still remains the number one preventable cause of death and disability in Oregon every year. Nearly one in five adults regularly use tobacco products, with about nine out of 10 stating they began tobacco use before the age of 18. In recent years, the use of tobacco products among young people has increased due to products like electronic cigarettes hitting the market. In Deschutes County, 9 percent of 11th grade students reported smoking cigarettes, 11 percent used some other form of tobacco products, and 19 percent used e-cigarettes, vape pens or e-hookahs. Young people who use e-cigarettes are also more likely to smoke cigarettes in the future.
E-Cigarettes are not harmless. E-cigarette aerosol can contain harmful chemicals users breathe in and exhale such as ultrafine particles, heavy metals and cancer-causing chemicals. Nicotine, which is found in cigarettes and most e-cigarettes, is an addictive drug. Nicotine can be harmful to the developing adolescent brain as it can harm parts of the brain correlated to attention, learning, mood and impulse control, and may increase the risk of future addiction to other drugs. Nicotine in e-liquids can cause poisoning if absorbed through the skin, mouth or eyes.
Emerging tobacco products are available and marketed in thousands of different flavors with kid-friendly names and packaging. Recently, the U.S. Food and Drug Administration announced it would take action to reduce youth access of e-cigarettes and vape pens, and increase enforcement of manufacturers and retailers that illegally market and sell to minors. Locally, we are working on comprehensive strategies to reduce the rates of tobacco use, with an emphasis on youth prevention. These strategies include preventing youth tobacco initiation, eliminating illegal sales of tobacco products to minors and making referrals to available resources.
Anyone interested in quitting smoking should call the Oregon Tobacco Quit Line at 1-800-QUIT-NOW (1-800-784-8669) or online at quitnow.net.
Karen Ard is the Tobacco Prevention and Education Program Coordinator for Deschutes County Health Services. She earned both her Bachelor of Science and Master of Public Health from California State University, Fresno. Her professional experience has largely focused on providing policy, systems and environmental change strategies to promote sustainable healthy environments.