I produced an event last week called "Toke Talks," and while I used the magic that is social media (#pleasecometomyeventorIwilldie), I also recognize that not every single person with an interest in cannabis is on Facebook or Instagram.

While I'm no Luddite, some people actually get their information through analog channels—and few things are as analog as pole postering. It's been a while since I've done it, but I grabbed a stack of 500 11x17 posters, two boxes of staples and an industrial staple gun and hit the mean streets. I did this for three days, and my FitBit (shut up, it was a gift) calculated that I had walked nearly 40 miles in that time. Good for me, but hauling a 20+ pound bag around resulted in attempted aggravated murder on my back and legs. I've never had back pain that made every step a new stereophonic experience in agony. I vaped a combo of strains, but wasn't getting much in the way of relief. (But high? Yes, I was getting high.)
So it reframes the term "fortuitous timing" that one day into my excursion into Painville, I had a package delivered by Leif Goods (formerly Leif Medicinals) with two of their new products, the oh so Northwestern-named Field Balm, and Wood Balm under the new brand name Physic.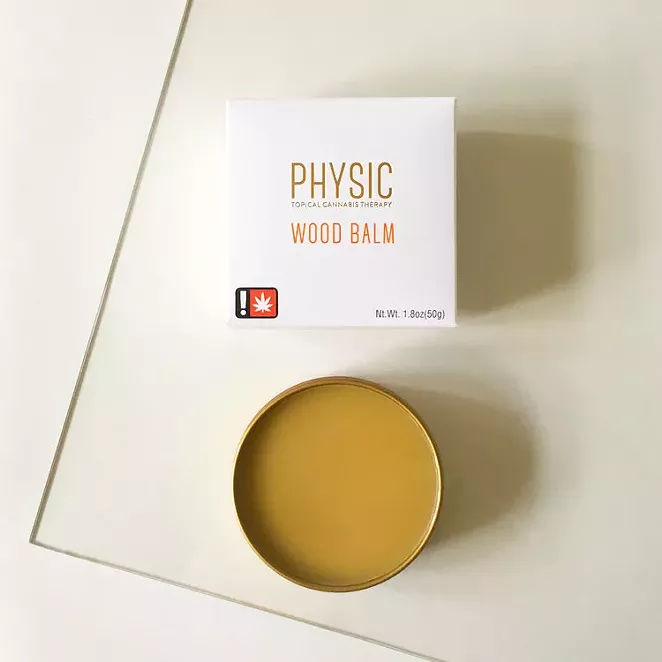 Physic Brand
Wood Balm Topical
I've tried a wide variety of topical cannabis products with some mixed results, although two standouts—Luminous Botanicals and Empower oils—have never let me down. And Lord knows I have a soft spot in my heart for the edibles that Leif produces. But this was some serious pain, and I questioned if the balms would be able to help, as I was at the stage where an opioid pill might be my best shot of finding some relief.
First off, they look great. The packaging and presentation is beautiful. They also smell great, and if I had been a tad more stoned, I would have tried eating them, as the Field Balm has lavender and bergamot, while the Wood Balm has cedarwood and orange.
Leif Goods
For edibles, Leif Goods also makes delicious treats, like the Mint Hibiscus Chocolate
Their website breaks it down, saying the products are 100 percent organic, plant-based, bee free and vegan. (Which is great, as nothing throws off a topical like finding out it's filled with dead bees, or worse, live bees.) They contain the addition of arnica flower and aromatherapeutic essential oils. Arnica flower is a strong topical pain reliever I've used in other non-cannabis products, so I had some hope. They state that they are good for both skin conditions such as eczema, dry skin and mild irritations, and the aforementioned pain relief.
I slathered some on, and wincingly made my way to my couch. A few minutes passed and I started to feel a mild relaxation in my muscles. About 10 minutes later, I stood up without making wounded coyote sounds. Within the hour, I was able to navigate stairs with a laundry basket.
One thing they did not do was get me high. In my experience, that's one of the most common misperceptions about cannabis topicals, that a liberal application is going to get you stoned. I had zero impairment, and continued a liberal application every hour for the balance of the day.
The next morning I was able to regain mobility, and the stabbing pain had been downgraded to a mild ache. I stuck with hourly applications, along with vaping some high CBD flower. By the morning of the third day, I had no issues with my back.
While I hope to never need them again, I plan to keep some on hand for friends and family with chronic pain issues. And God as my witness, I will never pole poster again.