Caitlin Richmond
This converted 1946 Spartan Manor trailer has been reborn as a hip hair salon.
Head Over Wheels

They have an iconic, unmistakable look: Sleek, shiny and silver, not quite boxy, thanks to the rounded corners. You can often find them being towed behind cars.
They are, of course, the iconic Airstream-type trailers. In Bend, you'll find at least two that are a little different than ones on the road. One's filled with plants for sale. Another houses a mini salon where its owner gives people a new look.
"I've always loved the aesthetic of an Airstream trailer," says Jyliana Porterfield, who owns the mobile salon. "And if you're doing hair, you really don't need much room."
Porterfield had been cutting hair for four years when she made the jump from a traditional salon to her current setup at Head Over Wheels. The transition was relatively easy, Porterfield says. The hardest part was waiting to find the perfect retro trailer, but she ended up finding one from one of her clients.
From there, she worked with contractors to gut the interior, building two hair cutting stations and one shampoo station. Keeping the look of the interior in line with the retro feel of her 1946 Spartan Manor was important to Porterfield, and something she strove for over the six months it took to build the mobile salon.
"The craftsmanship is out of this world," she said of the interior. "I'm a very detailed-oriented person, and it was important to me to have everything right. When you're inviting the public in, you need to have no apologies."
Although she's open to going mobile and would one day like to be on a Northwest hair-cutting tour, for now you can find Head Over Wheels at the Podski lot on Arizona Avenue. Walk-ins are welcome Fridays and Saturdays from 1 pm to 8 pm; otherwise, clients visit Porterfield's website to make an appointment.
Head Over Wheels
headoverwheelshairco.com
At The Podski food cart lot
536 NW Arizona Ave, Bend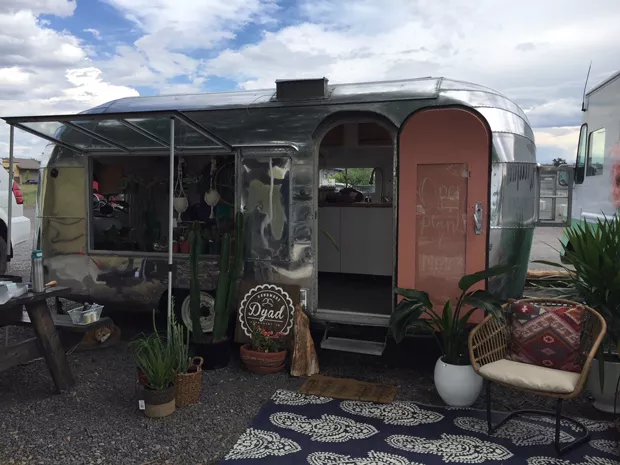 Caitlin Richmond
Dyad Adornment Co.
Dyad Adornment Co.

W
alking into Courtney Willis's Silver Streak is like walking into a carefully curated jungle. There are plants everywhere; all horizontal spaces are covered with pots. The large window on the side of Willis's 18-foot, 1956 Silver Streak is filled with plants hanging from macrame hangers.
Willis, like Porterfield, wanted a vintage trailer for the mobile aspect, but has no plans to leave her spot at
Spoken Moto
anytime soon. Even with a more permanent location, the trailer was a crucial step to expanding her business to include houseplants as well as handmade jewelry.
"I definitely wouldn't have done this without the Airstream," she said, refering to her Silver Streak. "With a brick and mortar store there is more commitment, and I wanted to keep it small and keep it simple."
Although her storefront may be simple, the process of getting the plants to Bend requires more logistics. Willis decided to expand to plants because there were few places to buy houseplants in Bend—which means she drives to Portland every week or so to add to her selection. This involves driving the three and a half hours, staying with a friend, then waking up in order to be at the nursery where she buys most of her plants by 5:30 or 6 am. She picks out her plants and pots, then figures out how to get all of them in her car in a way that they will all fit and also be stable for the drive back.
Willis says Dyad Adornment Co. is for anyone who might want a houseplant, not just people obsessed with plants.
"I get people who come in every week to get their plant addiction fix, but I also get people who bring in their plants because they don't know what's wrong with it," she explained. "I get people who are new to plants too, so I give them care cards so that they have more success keeping their plant alive."
Dyad Adornment Co. is open Wednesdays through Saturday at Spoken Moto. You can also find Willis's jewelry among the plants, inside Spoken Moto, at Cosa Cura, Paper Jazz and Faveur.
Dyad Adornment Co.
dyadadornment.com
At the Spoken Moto food cart lot
310 SW Industrial Way, Bend