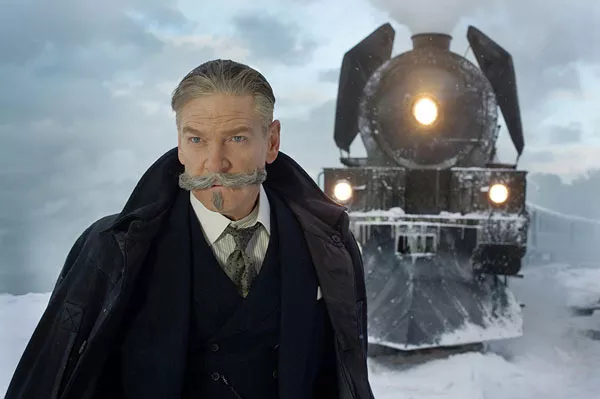 FOX

Dude, there's a train right behind you. You're not detecting very well.
I
t isn't always a bad thing to be old fashioned. Sometimes that can be deemed an insult when describing music, movies or any kind of art that doesn't break any new ground—but when describing Kenneth Branagh's take on Agatha Christie's "Murder on the Orient Express," it's definitely a compliment.
Christie's novel from 1934 has been so widely read and Sidney Lumet's 1974 film adaptation so beloved that it's easy to criticize this as something the filmmakers didn't need to remake. As great as the last film is and as iconic as the story has become, Branagh's remake was caught in an unenviable position: If it was too different, the film would be accused of disrespecting the source material. If it was too similar it would be called a pointless vanity project.
The story follows what is arguably Christie's most famous invention, the brilliant Belgian detective, Hercule Poirot (played by Branagh himself), as he attempts to unwind after solving a particularly difficult case. His berth on the Orient Express was a last-minute decision, as he figures it might be the quickest way to get him back to London so he can begin a well-earned vacation.
The train is filled with a motley crew of individuals who seem complicated enough to be the central characters in their own story—not to mention side characters in someone else's. There's a severe nun, a drunk banker, two angry servants, a cruel princess, a racist doctor, a ravenous widower, a few pairs of doomed couples and an American gangster. When one of them turns up dead, Poirot must cut his vacation short to put the disparate pieces of the puzzle together and find the murderer.

Branagh fills the cramped confines of the Orient Express with a remarkable cast including Judi Dench, Derek Jacobi, Willem Dafoe, Olivia Colman, Johnny Depp, Josh Gad, Penelope Cruz, Michelle Pfeiffer and Leslie Odom Jr. As uniformly excellent as the supporting cast is, none of them do the heavy lifting Branagh does in playing Poirot. His was a performance I expected to find a little self-indulgent, but instead thought was completely lovely.
Branagh doesn't try to match the coolness of Albert Finney's portrayal of Poirot, or Peter Ustinov's wit or even the warmth of David Suchet, who played the role for over two decades. Instead, Branagh brings a haunted look to the bright blue eyes of the master detective. Poirot is wounded, and, even as he tamps down any excess emotion with his obsession for order and delight at being left alone, we can see his uncanny ability to detect crime is also a defense mechanism to help him avoid self-examination.
This Poirot isn't a debonair action hero like Robert Downey Jr.'s Sherlock, or even a high functioning sociopath like Benedict Cumberbatch's. Branagh doesn't try to make Poirot cooler or more modern. He's just an old-fashioned detective who solves crimes with his nerdy powers of deduction instead of fists or a gun. He's entirely old fashioned and perfect just the way he is.
Murder on the Orient Express
Dir. Kenneth Branagh
Grade: B
Old Mill Stadium 16 & IMAX, Sisters Movie House