(Leer la versión en español de este artículo abajo)
Imagine being new to a facility or new to organized exercise and trying to figure it all out in a language that isn't your native one. Those are barriers employees at Bend Park and Recreation District's Juniper Swim & Fitness Center have been trying to break down—especially when it comes to fitness classes and swim lessons—by offering bilingual fitness instructors for several classes.
Bend Park and Recreation District
Bilingual classes at Juniper Swim & Fitness include yoga, Pilates, water fitness and swim instruction.
"As a native Spanish speaker, I can tell you that there is nothing like taking any class in your native language," said Kathya Avila Choquez, Latino community specialist for BPRD. "There is such relief when you go to a new place, try something new and you realize the receptionists, instructors, etc., speak your language."
(Disclosure: I also work for BPRD, in Youth Recreation.)
"Several years ago, the district started an initiative to reach underserved populations, specifically the Latino population," explained Monica McClain-Smith, fitness coordinator at JSFC. "We did a lot of planning about how we could implement that and how we could sustain it, so one thing we did was start to designate bilingual fitness instructors on our full schedule."
Currently, class offerings with bilingual instructors include yoga, Pilates and water workout classes, as well as swim instruction. BPRD has around 10 bilingual fitness instructors or swim instructors. Among its offerings are family swim lessons for Spanish-speaking families, where kids and their parents spend time learning skills and techniques.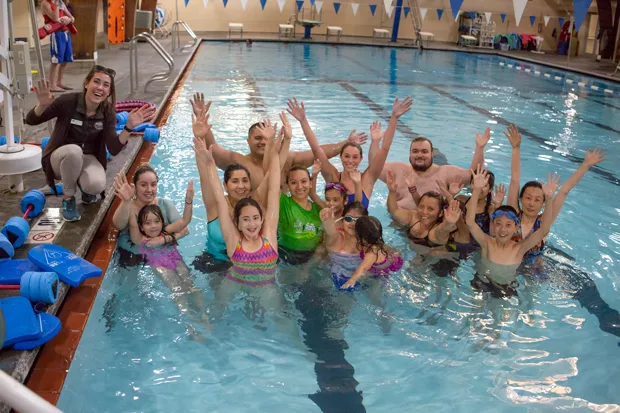 Bend Park and Recreation District
Avila Choquez is often the first point of contact for Spanish speakers, working at JSFC and at the main BPRD office, helping Spanish speakers navigate classes and offerings.
"Having bilingual classes offers recreational alternatives to the Spanish speakers, since there are not that many in Central Oregon," she explained. "Having bilingual and bicultural staff will increase the chances of reaching more diverse communities and will help to build confidence and trust with the Latino families quickly."
Version Español:
¡Vamos a hacer ejercicio!
Las clases de ejercicios bilingües reflejan el crecimiento de diversidad en Bend
por Caitlin Richmond
La Traducción por Kathya Avila Choquez
Imagínate que eres una persona nueva en un centro de recreación o en un grupo de ejercicios y estás tratando de entender todo en otro idioma que no es originalmente el tuyo. Estas son las barreras que Juniper Swim & Fitness Center de Bend Park and Recreation District está tratando de superar, especialmente en las clases de ejercicios y de natación al ofrecer clases bilingües en inglés y español.
"Como hispanohablante, te puedo decir que no hay nada como tomar una clase en tu propio idioma. Cuando estás en un nuevo lugar tratando de hacer algo nuevo y te das cuenta de que las recepcionistas o instructores hablan tu idioma, uno siente un alivio único" dijo Kathya Avila Choquez, Especialista al Servicio de la Comunidad Latina de BPRD.
(Nota: También trabajo en el Departamento de Recreación de Menores de edad de BPRD)
"Hace varios años, el distrito comenzó la iniciativa de servir a poblaciones vulnerables, específicamente la comunidad latina", explicó Monica McClain-Smith, Coordinadora de los Programas de Ejercicios de JSFC. "Coordinamos la planificación de cómo podríamos implementarlo; además de cómo íbamos a mantenerlo y el primer paso que dimos fue designar instructores bilingües en nuestros horarios."
Actualmente ofrecemos clases con instructores bilingües de yoga, pilates y ejercicios; así como también clases de natación. BPRD tiene alrededor de 10 instructores de ejercicios e instructores de natación bilingües. Dentro de estas opciones también hay clases de natación en familia para hispanohablantes, donde los niños y sus padres pueden aprender habilidades y técnicas de natación.
Por lo general, Avila Choquez es el primer punto de contacto para las personas hispanohablantes, ella trabaja en JSFC y en la oficina administrativa de BPRD ayudando a las personas con información de clases y programas.
"El tener clases bilingües ofrece otras alternativas de recreación a las personas hispanohablantes, ya que no hay muchas en Central Oregon", "El tener personal bilingüe y bicultural incrementará las oportunidades de conectarnos con diversas comunidades y nos ayudará a desarrollar la confianza con las familias latinas de manera eficaz.
Editor's note: The English version of this story has been altered from the print version to reflect that some classes offer bilingual instructors, but not necessarily totally bilingual instruction.