The situation at the U.S.-Mexican border is something that most Americans are aware of, but seeing it in person brings the reality home in a whole new way. That's what one Bend woman says after volunteering on the Mexican side of the border.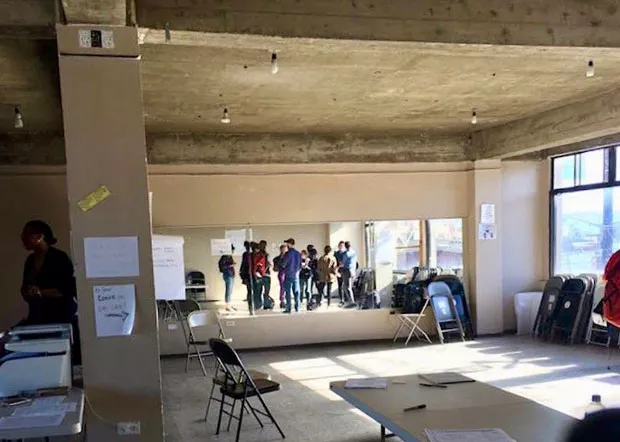 Photo by Kathryn Olney
Volunteers are reflected in the mirror of the meeting room where Al Otro Lado provided its services to migrants seeking asylum in the U.S.
Kathryn Olney works as a trial counsel for SAIF Corporation in Bend. She's also a board member for Oregon Women Lawyers. Olney said when the Trump Administration's separation policy came to light, Oregon Women Voters created a subcommittee to inform the members. When the migrant caravan hit Tijuana, Mexico, in November, the nonprofit, Al Otro Lado—which means "to the other side" in English—was overwhelmed with requests for support, and put a call out for anybody who could come help.
"I'm not an immigration lawyer, but I am anybody," Olney said. "And so I went."
Olney said she went to Tijuana for a week in January to volunteer with Al Otro Lado, which provides migrants, refugees and deportees direct legal services on immigration issues on the Mexican side of the border. The nonprofit started in 2012 by Nora Phillips and Esmeralda Flores.
Olney said the migrants trying to seek asylum and cross the border legally have to sign up for a number—a system Olney said was created by the Mexican government and U.S. Customs and Border Protection. Last November, Jonathan Blitzer of The New Yorker traveled to Tijuana and saw the process first-hand.
"In the tent, a group of Mexican immigration officers in khaki vests and orange sweatshirts milled around, chatting amiable with the immigrants," Blitzer wrote. "These officials are the intermediaries. They kept the list overnight and slyly hand it off to the volunteers the next day; they also relay the day's allowance set by U.S. officials: a number somewhere between 30 and 90 people, who are then allowed to move ahead to a credible-fear screening in San Diego."
Except, Olney said, it's not that easy. People trying to cross the border legally camp out in tents in empty lots or stay in shelters, and Olney said the Mexican government keeps closing the shelters that are close to where Al Otro Lado provides its services.
"The CBP determines each day how many people they can process," Olney said. "The Monday I was there they would take 20 numbers, Tuesday was 60 numbers, Wednesday was 31 numbers... It's totally random and meanwhile the people are arriving faster than that, so the numbers are backing up."
Olney—who did document scanning while volunteering—said she and the other volunteers went to the town square where the list was maintained about 7am. At 7:30am, immigration officials would start calling numbers off the list, and the volunteers would meet the families and give people quick immigration law classes standing on the sidewalk.
"We would do that kind of triage legal counseling right there and everybody else would get a map for how they could walk to the Al Otro Lado offices and an invitation to come back at 12:30," Olney said.
Olney said the volunteers would go back to the office to prepare for the meetings by setting up folding tables and mismatched chairs in the 200-square-foot or so concrete floored room in preparation to help people with their asylum case and their "credible fear" interview.
During her time in Mexico, Olney said she helped a young woman scan her documents, which left a permanent impression on her.
"This tiny little thing from Michoacan Mexico—so probably indigenous—short, looked like she was 14, but she was 20," Olney said. "She had a 7-month-old on her hip and a 2-and-a-half-year-old that she was guiding. She had the children's birth certificates, she had her marriage certificate, she had her husband's death certificate and she had the pictures of how he died.
"And as soon as I realized what that picture was of, I had to find a way to stop looking at it," Olney continued. "But I had to look at it to scan it to make sure it was in focus, to make sure I got it all and she needed to have it because it was documentation of what she was fleeing—but oh my god, she's 20. Her husband died before the baby was born and she walked with those children to get away from the drug cartel that killed him. I just wanted to scoop her up and take her home."
Olney said when she crossed the border into Mexico, CBP agents didn't stop her or ask for her identification, only scanned her baggage. Not the same experience for Phillips and Erika Pinheiro—another leader of the group—who were recently denied entry into Mexico, along with two journalists who covered the immigrant caravan that traveled through Mexico after their passports were flagged by an "unknown government," according to a story in the San Diego Union Tribune.
According to the story, Phillips and her 7-year-old daughter spent nine hours sleeping on a cold floor without food or water. Phillips and the journalists' accounts of being deported from Mexico have reached Oregon's lawmakers
"These are extremely disturbing reports," Ron Wyden (D-Ore.) told the Source in an email. "It would be an outrageous abuse of power for the Trump administration and CBP to target people for searches based on their political beliefs or because they are journalists. CBP needs to explain what happened in these cases, and whether this was an aberration, or a coordinated effort to punish political opponents."
Olney said that although she's not an immigration attorney and doesn't speak Spanish, people seeking legal asylum in the U.S. still need help and that Al Otro Lado needs volunteers. Another group Central Oregonians can get involved with is the Immigration Solidarity Network, an outgrowth of Central Oregon Neighbor Love, an interfaith group of churches committed to immigrant social justice. People can also contact Al Otro Lado to volunteer in person.
"It's one thing to send money, but it's another thing to go and see and bear witness," Olney said.