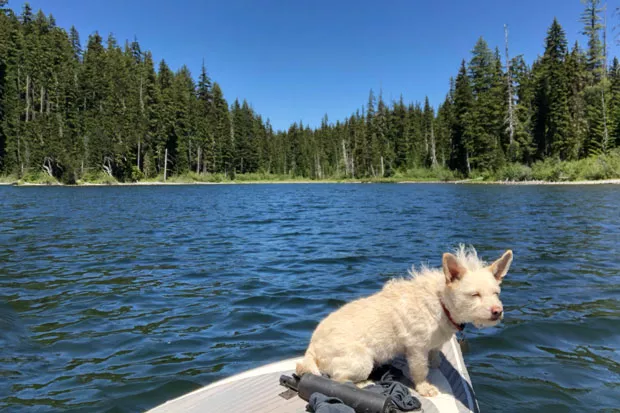 Nicole Vulcan
Yoda, a dog of the Source, dares you to share his #dogsonboats photo on Instagram. It's been done a few times before.
It's not just a novelty intended to get tourists to snap photos of you as you pass by the Old Mill. While some dogs won't ever get the hang of it, other pups love nothing more than getting close to some water-loving wildlife while you're paddling them aboard a watercraft. In honor of the Dog Days of Summer, the dogs of the Source recommend the following paddle spots, right here in Central Oregon.


Deschutes River
Pros:
Start out at the dog park at Riverbend Park to let your dog get nice and worn out swimming and running with his brethren before loading onto your watercraft. This may reduce the skittish movements he makes, which can rock your boat and get you wet when you don't wanna be.
Cons: Lots of obstacles in the way of unicorn floaties and hyperactive SUPers. You and your cute #dogonboat may also be the subject of some tourist's Instagram post.


Devils Lake
Pros:
If your dog's the curious type, the clear, green-blue water will give her plenty of fodder for contemplation of the lake's rainbow trout. Plus, easy access to the lake from the Cascade Lakes Highway. With a Northwest Forest Pass, camping at one of the stellar sites is free.
Cons: Parking can get hectic as the hiking season on South Sister ramps up.


Cultus Lake
Pros:
A trail circumambulating the lake, with lots of shade, can help your pup get out the wiggles. Paddle to the other side of the lake and you'll be greeted by plenty of fellow dogs-on-boaters, who might even share a beer with you.
Cons: Heavy weekend traffic.


Prineville Reservoir
Pros:
Fish abound year-round, and there's even a fish cleaning station—kind of a dog's favorite place to lurk, hoping someone makes a boo-boo and drops a scrap or two. The reservoir is a whopping 3,000 acres—plenty of space to spread out to swim, soak and paddle.
Cons: Motor boats are allowed and people waterski and wakeboard here frequently, so if your dog is the nervous type, this might be too much moto-activity.


Suttle Lake
Pros:
The Suttle Lodge is pet-friendly—meaning your dog can hang with you while you nosh or sip beers in the boathouse or restaurant. If you stay over, you can also access the Lodge's own fleet of paddle equipment.
Cons: Motor boats allowed. Also, word of warning: the nearby Scout Lake doesn't allow dogs at all.
If you have yet to try it out, Bend-based Ruffwear offers some stellar tips for standup paddling with your dog on its website, courtesy of Ruffwear Ambassador Maria Christina Schultz.
Tips include:


Opt for a life jacket for your dog—mostly to have something to grab onto if you need to get your pup back onto your watercraft. (Pro tip: a dog's harness works just fine for this too.)
Trim your dog's nails to cut down on scratches on your boat.
Add traction pads or deck pads if you're using a paddleboard, to avoid the slips that can send you and your pup into the drink.