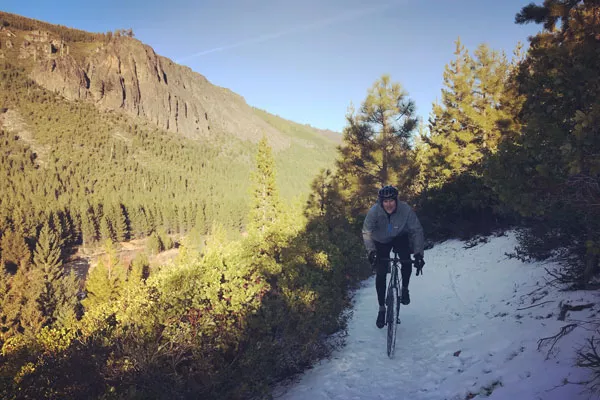 Lucas Alberg
Tumalo Creek trail between Skyliners Sno-Park and Tumalo Falls.
Typing out a memo, engrossed in the monotony of clicking keys, Beau Estes, digital marketing director for the Old Mill District, breaks out in a grin. He's bursting to share how great the mountain biking has been this winter.
With a twinkle in his eye, Estes explains, "I feel bad for the skiers, but the gravel riding has been amazing.
"In early December, a buddy and I took back roads that ran parallel with Mrazek all the way up to Tumalo Falls. The snow was light enough you could ride the whole thing on a [cyclo] cross bike. Sizemore, a dirt road between Bend and Sisters, has been perfect."
I rewound to the day before, caching a mental photo of the gouges in my rock snowboard after a run through the trees off Mt. Bachelor's Cloudchaser—fluoro-pink base bits dangling in concentric curls of confetti. Mine is not a unique tale; off-piste this season has been unkind. Alas, I can't afford a mountain or cyclocross bike at the moment.
This sort of conversation is happening all over Central Oregon: How to make the best of the winter drought? What sorts of alternative recreation are locals engaging in, with snowfall non-existent until recent weeks?
"I absolutely loved the intensity of last winter," says Christina Mckeown, artist and human resources director at Tumalo Creek Kayak & Canoe. "Which was great for my backcountry ski habit, but this winter has been rad in its own way. Between the warm, sunny days paddling local whitewater and the dry hiking trails, I'm relishing the outdoor opportunities!"
Climber Jeffery Pinley, a server at Barrio eatery, gave up on snow sports long ago. "I used to snowboard a lot, but the costs of day tickets and the season pass isn't worth it for me. Even if the snow conditions were better, I would still be spending my time climbing at Smith... I definitely notice when snow conditions are good, there are less people in the park."
In terms of business, David Marchi, mountain guide and owner of Crow's Feet Commons, says, "I can't help but feel like I am a snow farmer. Crow's Feet sets aside a large amount of financial resource and it really only works when the snow cooperates."
Despite this season's snow shortage, Marchi takes an optimistic approach, advocating for Alpine Tour skiing and modified expectations. "Head up Leeway at Mount Bachelor and ski a groomed run down, or pop over to the mountains across Century. I think that the act of skiing is therapeutic in itself... Nobody has a bad day after a day of sliding on snow."
Though primarily a backcountry shop, Crow's Feet has been favoring downhill skiing, given the snow conditions. Practicing on lift laps is a good worst choice. Marchi says, "On a solid pair of carving skis... resort skiing is the only way to really bang out the vertical and allows you to work on your technique," and also prepare you for out of bounds.
Although foot traffic downtown near his brick-and-mortar shop has been busy, and ski rentals and demos have been available since Thanksgiving weekend, Marchi notes, "Mountain biking, and gravel road cycling has definitely been on people's minds and we are seeing much more business in that realm than we have in years past."
Marchi reminds recreationalists that some roads are usually too dusty in the summer for cycling. However, currently, frozen ground and less-than-normal precipitation have collided to meld a perfect riding surface on many dirt roads. Echoing Estes, Marchi recommends a cyclocross bike with wider, knobbier tires and disc brakes for precision handling. He lists Maston, Peterson Ridge and Horse Butte/Ridge as locations to check out.

With particulate matter reaching 200 times normal amounts for Bend in August 2017, Marchi also incurred significant losses as an outdoor recreation-based business from the smoke last summer.
Mckeown saw a similar effect with river sports during the smoke-out. "The hazardous air quality from the hundreds of wildfires last summer had an impact on Tumalo Creek Kayak & Canoe. It pushed many customers to find alternatives to floating the river. We are crossing our fingers and toes for a more friendly fire season this year so we can all get out and enjoy the rivers without a face mask!"
Even Estes, amid enthusiasm for winter cycling, acknowledges the potential long-term consequences of a dry winter. "I'm worried about what the snowpack will be like in the summer and what that means for wildfire season."
Of course, it will be impossible to avoid forest fires in the coming summer, if a reasonable snowpack level isn't banked this winter. This will also affect river-goers, as melt-water dictates river flow rates.
Marchi says, "2017 winter was truly an anomaly and this 2018 feels like the norm for the future of Central Oregon. Consistent storm cycles are no longer reliable and we have to take what we can get... even if that means skiing in September (like we did this year!)."
Attendees and panel speakers at the Jan. 18 Climate Solutions for Future POW Days wouldn't disagree with Marchi's forecast. Panel speakers included cinematographer and photographer Andy Best; Policy Director for Renew Oregon, Margi Hoffman; Sustainability Manager for 10 Barrel Brewing Co., Emily Edens; Advocacy Manager for Protect Our Winters, Lindsay Bourgoine; and a representative from Mt. Bachelor. The panel spoke to how their livelihoods would be affected if climate change continues unchecked.
POW (Protect Our Winters), is a passionate crew of diehards, professional athletes and industry brands mobilizing the outdoor sports community toward positive climate action. Although they focus on educational initiatives, political advocacy and community-based activism, they also put out a specific call to put a price on carbon during the meeting.
The City of Bend will have a chance to heed this call, with $175,000 in funding to generate a climate change action plan by 2019. At the moment, the plan will call for a 40 percent reduction in carbon emissions for the city by 2030, a lofty goal that will almost certainly include public and private purchase of carbon credits. Meanwhile, cap-and-invest Clean Energy Jobs legislation (SB 1507 and HB 4001) is before the Oregon Legislature, including a proposal for a market-based carbon pricing program that's also intended to keep Oregon businesses competitive.